Your Custom Part Manufactured with
Speed and Precision
The manufacturing capabilities you need and the engineering support you want, all from a single partner.
We strive to respond to all quotes within 24 hours or less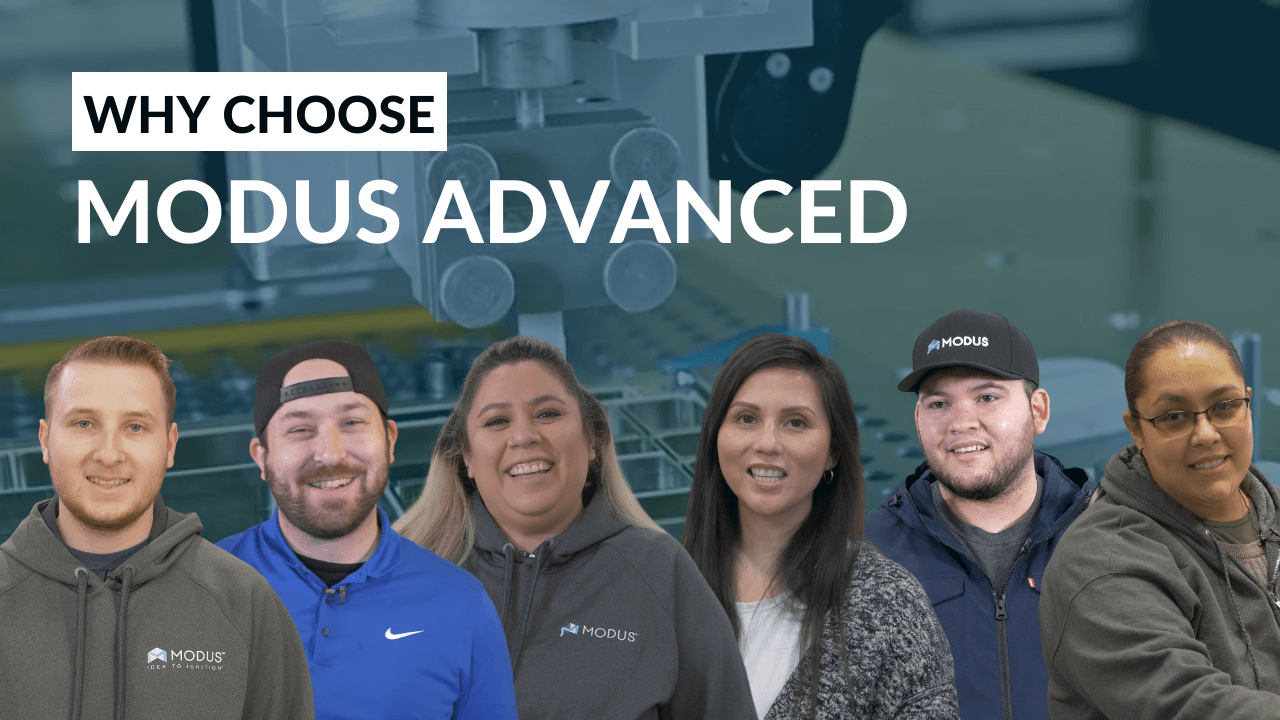 Engage with Modus
Wherever You Are
Early Involvement in the Design Phase
The earlier you can involve us in the design phase, the more we can help you build a design that will ultimately perform to your specifications and be faster and less expensive to manufacture.
QUOTE & DFM

Get Your Part Right the First Time
Our Design for Manufacturability (DFM) process will help ensure we can identify any design features that may cause problems with manufacturing, or increase lead times.
Lightning-Fast Lead Times
In the prototyping phase, you care about speed. You are rapidly testing changes in your designs and working hard to get a minimum viable product (MVP) or a prototype that works the way you expect.
Manage Long Term Production Costs
As you shift a product from early launch stages to ongoing production, your primary goal will shift toward reducing unnecessary costs and finding the most efficient way to produce your final product.
The lead times you need.
The customer support you deserve.
All without sacrificing an ounce of quality.
Robust Quality Systems for Your
Most Stringent Requirements
You can start with your
INDUSTRY
Select the
APPLICATION

for your project
Or jump into our
CORE MANUFACTURING PROCESSES
The relationship helps take our products to new heights
The Modus team works with us on every design to get everything right and bring up things we never would have thought about. The relationship helps take our products to new heights.
...Modus® never sacrifices quality
We continue to come to Modus because of their dedication to quality. From the materials they work with to the quality of their workmanship, all the way down to the way products are packaged and shipped, Modus never sacrifices quality.
…with Modus® it's a completely different experience.
The best part about working with Modus really comes down to how much they care. You can see it in their service level, willingness to solve problems, and responsiveness. Many suppliers are not very easy to work with, but with Modus it's a completely different experience.
We value partners that treat us well
We value partners that treat us well, have excellent customer service, and exceptional quality. Fewer, deeper relationships with core suppliers like Modus allows us to better ensure we always get the quality we are expecting.
Helping Companies Like Yours
Bring Life-Changing Products to Market Faster
Ok, So What Makes Modus the Right
MANUFACTURING PARTNER

for You?
Better
Get your part right the first time. No mistakes. No recalls.
Prototype and production volumes
Robust quality processes, technology, and systems
Faster
Faster response and better efficiency. ½ the typical lead time.
Rapid prototyping
Quick turn
Safer
Fewer vendors, less risk. Incredible security standards.
AS9100
ITAR Compliant
CMMC
More
Cover more of your manufacturing needs under 1 roof.
Vertically integrated
9 core manufacturing processes
Speak to an
ENGINEER

today.

We strive to get every quote turned around in 24 hours or less to make sure you get the information you need faster.