IDEA TO
IGNITION™
Modus Advanced, Inc. is a leading custom designer, manufacturer and distributor of performance polymer based products for the OEM marketplace.
WHO WE ARE &
WHY WORK WITH US
Modus Advanced is a diversified company that helps take Original Equipment Manufacturers from Idea to Ignition™ by converting high performance materials into finished products. We solve challenging engineering issues through the use of EMI Shielding, Die Cut Gaskets, Microwave Absorbers, Noise Vibration and Harshness Products, Custom Molded Rubber and Thermal Interface Materials.
We continue to push ourselves via continuous improvement and automated metrics reporting to better serve our customers. Through targeted investments in people, automation and equipment, we've been able to achieve an overall on-time delivery record of more than 99%. With our primary location in the USA, Modus Advanced, Inc. is well positioned to help your company succeed.
A Few of
Our Partners
We've been lucky enough to work with some incredible brands to bring their products to life.




Idea to Ignition
A time tested, 4-step process for taking risk out of the job of moving your project from the drawing or concept stage through full production.
Speed & Precision
Fast, effective delivery combined with the strongest commitment to quality means you can bring better products to market faster.
The Obvious Choice
We believe in doing whatever it takes to be your obvious choice for EMI shielding gaskets, thermal interface materials (TIMs) and other high performance products.
Product Brochure:
DOWNLOAD THE MODUS ADVANCED PRODUCT BROCHURE
Browse our full collection of products and processes with detailed specifications and usage guidelines.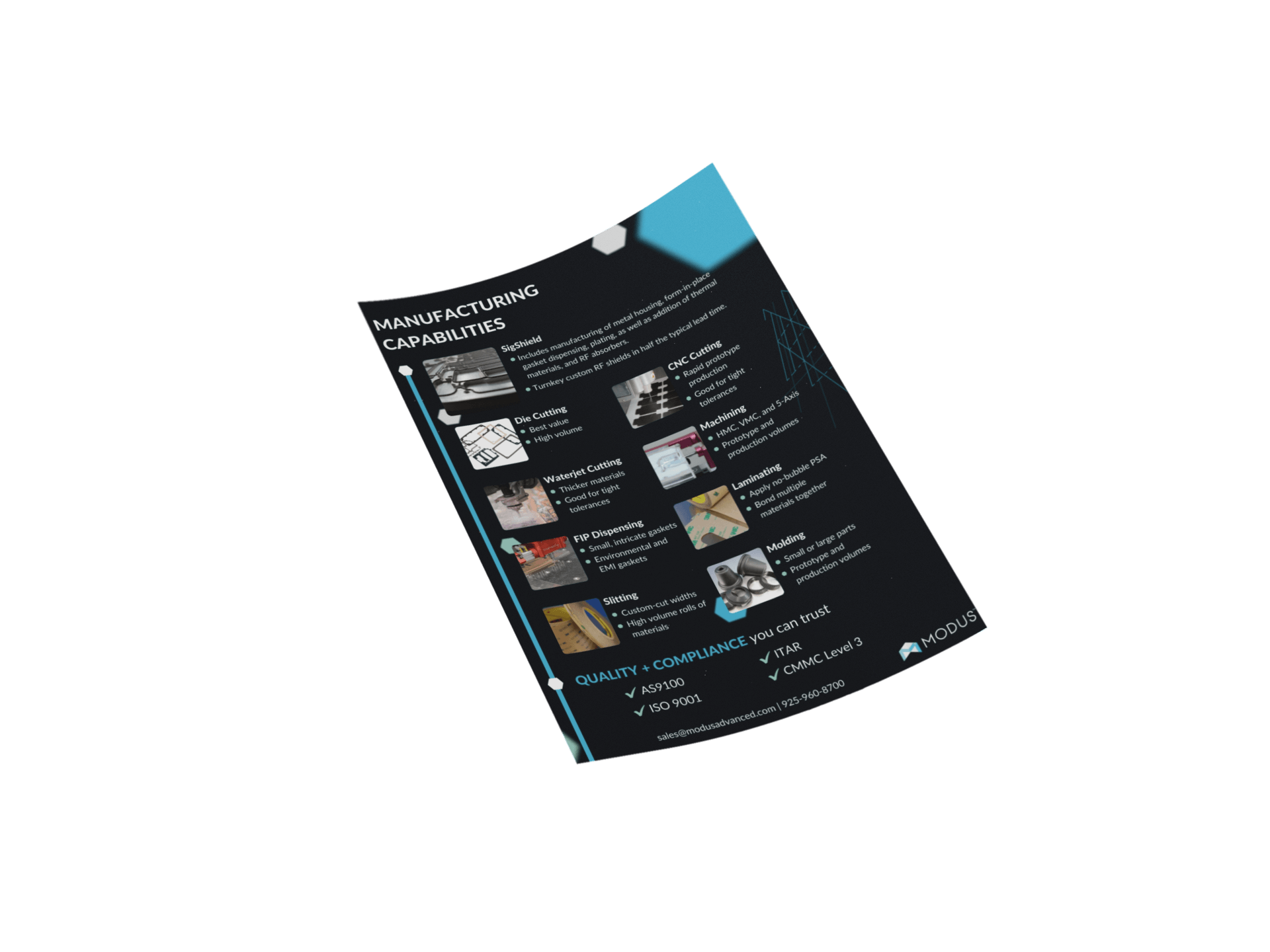 A Commitment to
Quality
Here at Modus Advanced, we're committed to the highest quality products and services. It's this commitment that keeps our partners coming back to do business with us year after year and it's also what has earned us some of the most rigorous quality certifications available.