Key Points
The "Great Supply Chain Disruption" of 2021 has wreaked havoc on production and lead times for OEMs. And it is far from over. 2022 will continue to see similar silicone shortages and port disruptions.
Working with your suppliers to build 6-12 month blanket POs can help overcome some of these issues, providing greater predictability in 2022.
Bulk ordering materials, accurate forecasts, taking shipments early and having material in-stock can significantly reduce the amount of lead time disruptions OEMs have to suffer through.

What's Happening in the Supply Chain
Unless you've been under a rock for most of 2020 and 2021, you are well aware that the COVID-19 pandemic has had a slight impact on the supply chain.
Or, more like a huge impact.
The silicone market in particular has experienced major problems in 2021. Production slowdowns in China have sent silicone prices soaring and lead times have increased dramatically. Silicone production has decreased by as much as 90% in some cases.
Now, add the port crisis on top of material shortages, and we have a major problem that is preventing OEMs from producing life-changing and life-saving products.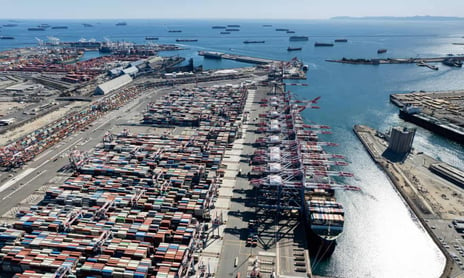 (image source)
Huge backups at all of the US's major ports have lines of cargo ships sitting and waiting to drop off their cargo. Ports are seeing backups of up to 50 ships at a time leading to a "record 92 days on average to assemble the parts and raw materials" needed to make goods.
And nothing is changing in 2022.
But, there are ways you can lessen the pains you feel as the person at the very end of that supply chain.
-- Article Continues Below --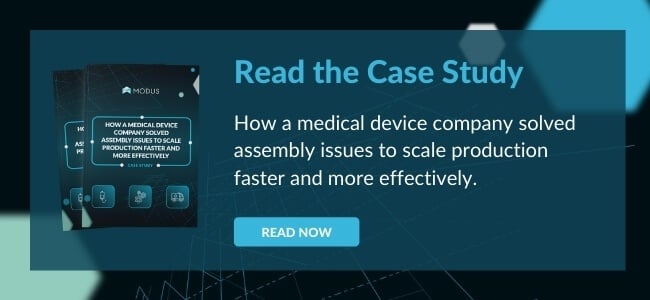 Learn how a medical device team solved assembly issues with Modus.
Benefits of a Blanket PO
While it might seem on the surface that blanket POs are really beneficial for the supplier (us), the truth is they provide huge benefits to OEMs or customers (you) as well.
Predictability
With the state of the supply chain today (see the previous section), there's no question that delays and disruptions aren't going anywhere. Over the course of 2021, we've watched these delays and disruptions wreak havoc on product production cycles for our customers.
Delays, sometimes up to 6 months long, are not easy to overcome. And every day you have products sitting on a shelf waiting to be completed, is a day you aren't making any money from those products.
Forecasting your production needs for the entire year, and structuring a blanket PO for the year with scheduled release dates means that, on our end, we can do a few things to ensure predictability for you:
Order material in advance: Knowing your needs ahead of time allows us to order in advance for the entire year's worth of production, significantly insulating you from day-to-day fluctuations in lead times on materials that can be devastating to your timeline when you are ordering on an "as needed" basis.
Make products as material arrives: We can more easily schedule in production as soon as material arrives. Rather than trying to fit your order into an already busy production schedule, we can plan in advance and ensure that your parts are even ready early on many occasions!
Hold stock: Having parts ready early allows you to internally hold stock on those parts if you choose, making them available instantly when you need them the most.
Cost Savings
Another key benefit to setting up a blanket PO is the cost savings it can provide. Knowing your needs and forecast for the year allows us to order material in bulk. The price breaks afforded by material suppliers for bulk orders will directly translate into reduced per-part costs for your quotes!
While blanket POs can't 100% allow us to guarantee prices, as material prices will fluctuate over the course of the year, it certainly helps us to insulate you from those changes. Knowing what your future needs are, we can make strategic decisions about ordering material when it is priced at its best to help keep your costs as consistent as possible.
-- Article Continues Below --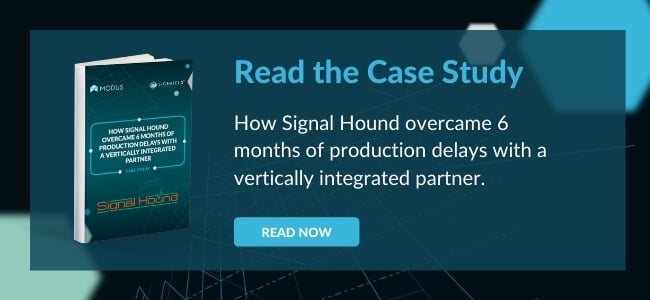 Learn how Signal Hound Overcame 6 Months of Production Delays with a Vertically Integrated Partner
How the Blanket PO Process Works
"Well," you say, "if it is so great, sign me up for one of those bad boys!"
Great, let us tell you how it works!
You: Issue a PO with scheduled release dates for when you need specific volumes of product over the course of the year. To get the most out of the benefits discussed above, include a note that says to "Ship ASAP," or allow for shipment ahead of expected release dates.
Modus: Reviews PO, provides an estimate for lead time, and pricing. Upon approaching scheduled release dates, Modus will confirm final pricing. Modus delivers product on or before scheduled release dates.
...And that's it!
Seriously, it's that simple. What are you waiting for?Get in touch with our sales team to set one up now.