Historically a rubber seal and gasket company, Modus Advanced, Inc. recently ventured into the machining business due to increased demand for quick turn RF shields. We now produce complete radio frequency (RF) shields from start to finish, beginning with the machining of the aluminum to the dispensing of a form-in-place (FIP) gasket.
Over the years, we've brought on additional processes and materials to meet customer demand – such as glass cutting using a waterjet, machining plastic parts on our large format Haas router, and dispensing machines to apply precise beads of electrically conductive silicone on RF shields. The way we see it, the more we can do in-house, the easier it is to help our Partnership Accounts accelerate the process of designing and manufacturing tomorrow's innovations. However, with every new process Modus™ incorporates into its production line comes its fair share of challenges, and machining metal parts is no exception.
-- Article Continues Below --
Read Everything You Need To Know About CNC Machining
Overcoming Challenges
There are many standard challenges custom, made-to-order components manufacturers face, including understanding customer design intent, programming and process set up, raw materials supply chain management, meeting lead time commitments, and of course making parts that meet customer's quality requirements. We found there are many similarities between our existing manufacturing processes and metal parts machining. It is also intriguing to find metal parts machining has some unique challenges and a mature ecosystem of technologies to overcome those challenges. Interestingly enough, our machining experience led directly to an improvement in all 11 of our in-house manufacturing processes.
Challenge #1: Workforce
One of the biggest challenges for any company is finding the right talent. Fortunately for us, we didn't need any one person to know how to do everything when it comes to machining. We need highly-skilled individuals who know how to make their part of the process work efficiently and effectively. Our team now consists of experienced machine operators (in our milling department as well as other disciplines), programmers, quality inspectors and a portfolio of on-demand expert professional resources who help move projects forward with speed and precision. Bottom line, if your custom parts manufacturer has a proven and talented workforce, don't be afraid to encourage them to think about adding machining to their portfolio.
Challenge #2: Material Variables
Let's get the obvious out of the way, manufacturing parts made from aluminum is much different than making flexible rubber parts. Probably the biggest lesson learned here is all of a sudden we are dealing with a much smaller set of material variations when manufacturing parts made from domestic 6061 aluminum. The massive volume of rubber compounds available allows for what seems like an infinite number of possible variables. Oh, and did I mention, the universe of possible material combinations and performance in unique applications moves from almost infinite to literally infinite when a customer desires to use adhesive on the rubber gasket!
-- Article Continues Below --
Visit the Modus CNC Machining Resource Center
Challenge #3: Software and Automation
We are pleasantly surprised to learn about the high level of automation available in the machining industry. In fact, I would venture to say, the machining industry, as a whole, has probably done a better job using software and robots to automate parts manufacturing than the rubber gasket industry. The use of material loading robots and pallet systems on CNC machining centers dramatically reduces labor content in machined parts. So, what have we learned? There are a number of opportunities in the gasket business to automate, not only production, but the whole "quote to part" process. The obvious result of automation being applied to gasket operations is reduced lead times and better quality control.
Challenge #4: Quality Control
Manufacturing parts made from dynamic materials (rubber) differs greatly from rigid materials. We developed a different set of quality controls to ensure accuracy of the final product. Knowing aluminum expands and contracts at different temperatures, the greatest challenge encountered is determining the necessary equipment to precisely measure the product, specifically aluminum RF shields. Tolerances for rubber gaskets typically start at +/- .015", but in most cases RF shield tolerances are +/- .005" or better. What did we learn? The best way to demonstrate turnkey RF shields meet drawing tolerances is to use a combination of laser, vision and touch probe systems. A single piece of inspection equipment simply doesn't adequately measure the various features designed into many of today's complex shields. We now also leverage the same multi-process inspection for gaskets when needed.
Challenge #5: Suppliers
Due to our existing quality management system, we already have supplier selection and controls in place. However, we had little experience with the type of processes and outputs we now have to source. In addition to finding the best sources for aluminum stock, we also qualify plating companies – a special process which adds an entire new set of quality and environmental controls – threaded insert and stainless pin suppliers, machine tools, and maintenance services. Lesson learned? When trying to offer a quick turn machining service, choose material and process suppliers who are aligned with your strategy! Not everyone works with a sense of urgency.
Challenge #6: Managing Secondary Processes
Modus™ is already efficient at quick turn parts in rubber production, which is, in most cases, a single production step. In producing aluminum RF shields, we designed our production flow through multiple steps, which includes machining the aluminum, plating or chemical conversion, installation of threaded inserts or pins, and finally dispensing of the form-in-place gasket. Our previous "job traveler" was not designed to capture all of these steps into a single document, nor were we used to running so many processes concurrently. Furthermore, in order to manage the quick turns, we have learned to manage these steps efficiently while still maintaining quality documentation in our system. Lesson learned? A more sophisticated "job traveler" system (digital) leads to superior results in both machining and rubber manufacturing.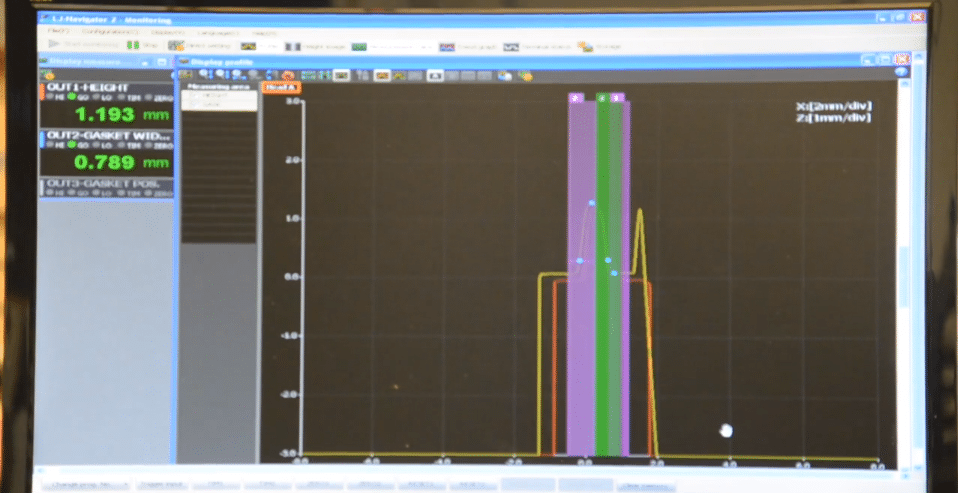 Lessons Learned
It's absolutely crucial to have an understanding of the various challenges that come with machining or any new-to-you manufacturing process. For Modus Advanced, we not only conduct extensive research on the machining process, but we also leverage the collective talent of our existing team members. Additionally, we partner with other companies in the space to learn from their expertise.
Machining isn't easy. After going through the ramp up process, we certainly have a newfound respect for top machine shops that utilize the latest technology and have the ability to offer a quick turn service. Though our team already utilizes various types of CNC equipment to produce gaskets and other parts, learning to effectively use CNC mills definitely has a steep learning curve. Pushing the parameters of the machine to ensure expeditious production, while controlling the quality of the output, is an ongoing practice of our machining process. As with all of our processes, continual improvement is what we do at Modus™. Extensive research continues to drive increased quality and efficiency as we manufacture RF shields.