There's always potential disruptions in the manufacturing process – materials may not be readily available; customer requirements may have been overlooked when a project was quoted; perhaps changes were made to the design after receiving a quote that didn't flow through to the purchase order. These hindrances are frustrating and may possibly delay product shipment, but shouldn't completely derail gasket production.
So how does your die cut gasket manufacturer take care of you if the ball drops? Do they have any safeguards to prevent costly issues from wreaking havoc on your production schedule?
To navigate through even the most heightened situations, experienced gasket manufacturers seek guidance from a variety of global quality principles and standards, including Total Quality Management (TQM), Lean Manufacturing and AS9100. Taking preliminary steps to effectively manage gasket production by implementing a pre-production planning process will continuously improve efficiencies geared towards delivering expected results, while reducing wastefulness in areas of over-production, and excess material purchases. It's a given that less defective product returns and material consumption will ultimately save time, money, and headache for both the die cut gasket manufacturer and their customer. Why not simply use a manufacturing process with quality safeguards built in?
---
Our pre-planning processes and quality products have made us a leading manufacturer of innovative engineered solutions.
---
Cross-Functional Collaboration = Quality

Manufacturing die cut gaskets while checking quality at multiple points in the production process is truly an art, and a science as well. In many respects, quality depends on the ability of multiple departments to come together as a team. Does your die cut gasket manufacturer rely on its members' critical thinking abilities and expertise to improve work processes and solve problems? Are potential issues addressed in advance of production?
Successful and profitable product outcomes are the result of solid planning and collaboration, especially when it comes to fabricating die cut gaskets based on intricate design specifications. By viewing gasket manufacturing from all vantage points in a system, quality principles fold neatly into a manufacturing culture.
Image: A glimpse of Modus Advanced, Inc. Operations Department
Assessing every segment of the die cut gasket manufacturing process prior to production is essential. A well-defined gasket production plan will verify material availability, check material yields, address risks, scheduling and gasket manufacturability. Having this information continuously updated in an ERP / MRP software package and available to a cross-functional team allows potential glitches to be discovered and fixed prior to production. Job tracking ensures gaskets will be manufactured according to plan and meet customer design specifications. Though many in the gasket industry use automation as a part of their quality systems, automation alone doesn't necessarily eliminate the need for experienced team members who can think on their feet and address in process concerns.
An Effective Approach to Pre-Production Planning
Daily, Pre-Production Planning (PPP) meetings are essential and serve as a "checks and balance" to make certain die cut gasket orders are manufactured to customer specifications. Typically, led by the Production Manager, quality oriented pre-production planning meetings will include representatives from Quality, Engineering and Purchasing teams.
During these meetings, the Gasket Manufacturing Team will examine and verify the sales quote, quoted exceptions, production lead times, inventory, technical drawing notes and packaging requirements – anything that influences the order. Any areas in the process that do not enhance the overall value of the end product or delays shipping are re-evaluated. The team then suggests optimal solutions to any problems that may potentially hinder production.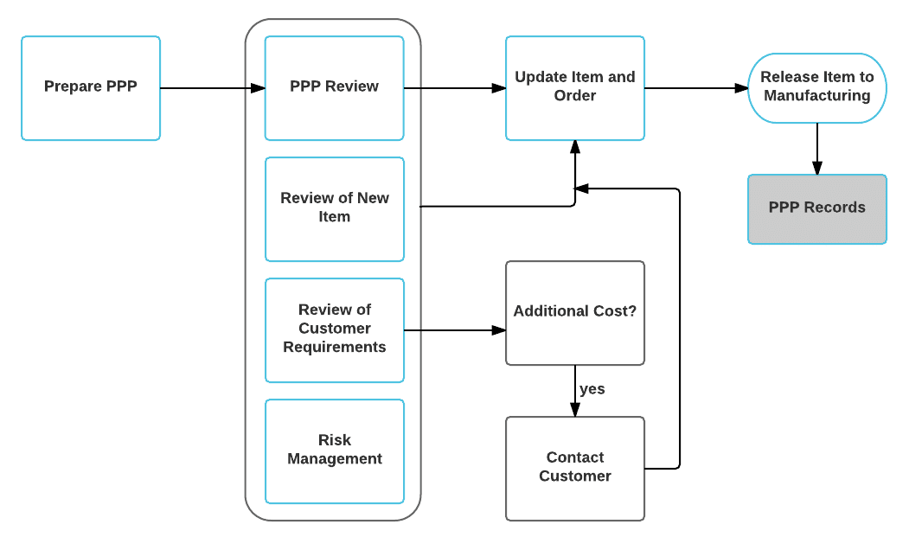 Image: Pre-Production Planning Workflow
The Pre-Production Planning Meeting in Action
PPP meetings should operate just like the gasket manufacturing process itself - with focus and integrity. A detailed checklist outlines relevant items and assesses any additional requirements, such as drawing notes, quoted exceptions to tolerances and customer purchase orders for accuracy. A checklist type tool is an efficient way for the team to review all aspects of a project before the wheels of production start rolling.
PPP Meeting Checklist Organized by Department or Functional Area

Order Verification

Is the order entered accurately based on the quote?
Are customer requirements entered accurately on the order?
Verification of pricing and terms.

Engineering

Has the fabrication process been accurately quoted?
Is the lead time confirmed?
Are there exceptions or non-reoccurring charges?

Materials/Purchasing

Are materials in stock? If not in stock, what is the lead time to obtain?
Are the material certifications on hand?

Quality Assurance

Are the drawing tolerances attainable?
Do the drawing revisions match the PO?
Are both PDF drawings and CAD files in place?
Are there environmental requirements REACH (Registration, Evaluation, Authorization and Restriction)/RoHS (Restriction of Hazardous Substances)?
Are all drawing notes addressed (again)?
Are there any additional customer requirements/quality clauses?

Packaging

Are there protective packaging requirements?
Are there customized label requirements?

Fabrication

Has the drawing been double checked?
Has the material been verified?
Is the die available or was it ordered?
Are there special processes to consider?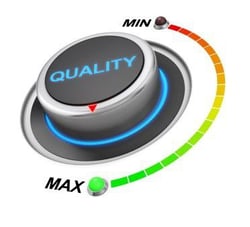 A proactive approach, combined with a constant flow of communication, is essential when operating an effective die cut gasket manufacturing system. Each step of the production process must be carefully examined by the team prior to starting production. The use of live-feed order management on the manufacturing floor grants everyone a constant, viewable status of orders, materials, and production times. If there's a question or concern during the manufacturing process it can be addressed immediately. Process monitoring completes the chain of efficiency.
Can Pre-Production Planning Lead to Cost Savings?
The goal of the PPP meetings is always to iron out kinks in the plan before full production to save time and ultimately money. In fact, at Modus Advanced, Inc. our "out of specification complaints" on new line items dropped from 4.2% to less than 1% after implementing Pre-Production Planning Meetings a few years ago. The metrics are proof that thorough planning for quality leads to overall cost savings and a better customer experience.