Additive Manufacturing | Processes
Additive manufacturing (AM), or three-dimensional (3D) printing, is the process of creating a 3D solid object of nearly any shape from a digital model. The technology has lead to innovations in a vast array of industries since the 1980s. The process has widely contributed to the biomedical field with the creation of biocompatible veins, to national security with the production of unique parts for the U.S. nuclear weapons stockpile, and to aerospace applications by more rapidly and simply generating products needed for unmanned aerial vehicles and satellites, among other notable applications. While already impressive, AM technology only continues to mature and diversify.
Industry Trends | Processes | custom molded rubber parts
Regardless of industry, designing a custom product is a challenge in itself, let alone unleashing the design into production. So how can your company ensure it is selecting the best production methods for your unique product? Efficient manufacturing requires forethought, planning and exceptional components. Design engineers want prototypes quickly and, in order to stay in the game, manufacturers must perform.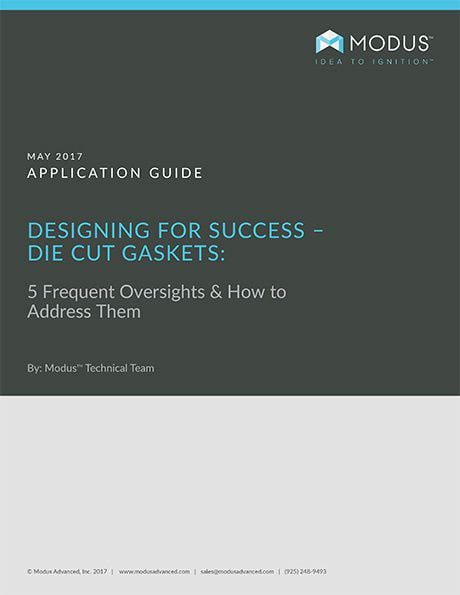 Die Cut Gaskets eGuide: 5 Frequent Design Oversights & How to Address Them
If you make a mistake during the design phase, you run the risk of going over budget and not receiving your solution in time. Our latest eGuide will help you avoid these common design oversights. Get a free copy by subscribing to our blog.
Company | EMI Shielding | Nolato | Processes
'Leaving it to the experts' can be a mutually beneficial proposition for both the expert and the other party. In industry, this concept is a convenient way of allowing both parties, each familiar with a certain field, to hone their skill set and become trusted, esteemed experts in that field.
Component manufacturers with poor quality control can jeopardize your engineering projects. Form-in-Place (FIP) gaskets, die cut gaskets, and custom molded rubber products with part defects may not perform as required. Custom-fabricated components that fail to arrive on-time may cause delays in product development, production, and assembly. These are just a couple of reasons engineers need to be aware of how quality-focused their custom parts supplier is.
When you have a need for "speed", quick-turn parts can be your salvation! The production of quick-turn parts necessitates both quality methodology and a single supply chain comprised of multiple manufacturing steps. Engineers can achieve both quality and quick-turn through vertical integration. This approach combines the production of base components and supporting processes all under one roof, saving time and money by shortening your supply chain to one manufacturer!
Is your design complicated and you're looking for a cost effective but reliable sealing solution?
Mechanical Engineers often face tight deadlines when trying to design new RF shields with form in place gaskets. Projects that seem simple can quickly become complex when multiple components must come together in a timely manner to achieve production goals. Cost overruns, delays, defects, and poor risk control present significant barriers to project success.
Sustainability, renewable resources and environmental awareness aren't just buzzwords to toss up on a website. Today, the world is more aware than ever of the effects of human activity on our planet. With humans speeding climate change up to 170 times faster than natural forces, organizations have a responsibility to find ways to be more sustainable, even if there's a cost associated with it. In the past, manufacturing was a notorious culprit of industrial pollution. Now, with so many new sustainable technologies out there, industry has an opportunity to shrink its footprint and invest in the future. Of course, the short-term setup costs can be intimidating. But in the long run, investments in green manufacturing technologies can save money and keep our planet healthy. A win-win!
There's always potential disruptions in the manufacturing process – materials may not be readily available; customer requirements may have been overlooked when a project was quoted; perhaps changes were made to the design after receiving a quote that didn't flow through to the purchase order. These hindrances are frustrating and may possibly delay product shipment, but shouldn't completely derail gasket production.
Electronic components produce heat when they operate. How these products manage their heat generating and cooling systems determines how functional and reliable they are. Thermal dissipation greatly contributes to the performance and longevity of various products, especially electronic devices. Since electronics generate power, fluctuations in temperatures can occur. When temperatures get too high, there needs to be a way to wick the heat away from the components to a heat dissipating mechanism, such as a liquid cooling plate, chassis or traditional heat sink. For instance, if a Printed Circuit Board (PCB) does not have a way to transfer heat, the reliability and longevity of its components will be adversely affected. In extreme cases they can even melt or become damaged. Thermal Interface Materials (TIMs) are used to transfer heat away from the heat source and onwards in the cooling chain.