In the days before last November's presidential election, Forbes magazine asked "Which Candidate Can Make American Manufacturing Great Again?" Today, that question is irrelevant. Whether you love him or hate him, Donald J. Trump – and not Hillary Clinton – is President of the United States. That much is clear, but it's uncertain what the future holds for U.S. companies that have moved operations to places like China and Mexico.
---
See how our manufacturing processes delivers the highest quality products, on time, every time.
---
Economists wonder how President Trump's policies will affect American manufacturing in the aggregate. Individual manufacturers have a related, but more pressing and personal question. Namely, how will the Trump Administration help or hurt your business? It's not just the C-Suite that's asking questions either. Sourcing managers want to know if China and Mexico are still viable options. Engineers are concerned that higher costs for imported products could affect their product designs.
Ultimately, manufacturing is an ecosystem. The U.S. economy is still the world's largest in terms of nominal GDP, but don't discount the importance of global markets. According to the U.S. Department of Commerce, 98% of the approximately 300,000 U.S. companies that export are small and medium-sized enterprises (SMEs). Moreover, SMEs account one-third of U.S. merchandise exports.
American manufacturers differ in terms of size, location, product mix, and myriad other factors. Yet many companies have questions about President Trump's policies. Typically, the areas of concern fall into three categories: trade, taxes and regulations, and manufacturing assistance. These aren't the only things that keep manufacturers awake at night, but an Executive Order won't solve problems like the "skills gap".
Trade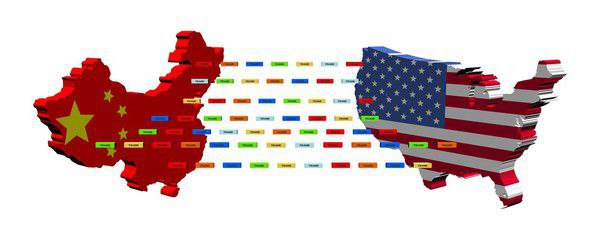 Image: Graphic representation of Chinese American trade
During the presidential campaign, Candidate Donald Trump promised to renegotiate trade agreements that he says have resulted in significant job losses for U.S. manufacturing. In addition to the North American Free Trade Agreement (NAFTA) with Canada and Mexico, Trump targeted the Trans-Pacific Partnership (TPP). Candidate Trump also spoke about imposing tariffs as high as 45% against China, the world's leading exporter and major beneficiary of U.S. offshoring.
During his first week in the Oval Office, President Trump signed an Executive Order that removed the United States from negotiations regarding TPP, a proposed multi-lateral trade agreement with 11 other countries. Notably, however, Trump is interested in pursuing separate agreements with individual countries. In addition to Japan, a leader in robotics and advanced manufacturing, the Trump Administration could pursue trade deals with lower-wage countries like Vietnam and Malaysia.
Trump's interest in a stand-alone trade deal with Great Britain was evident during a White House meeting with Prime Minister Theresa May on January 27. The British leader said she's "convinced a trade deal between the U.S. and the U.K. is in the national interests of both countries," and President Trump accepted her invitation to visit Great Britain later this year. According to a downloadable Excel file from the World Bank, the U.K. is the world's sixth largest economy in terms of GDP.
Canada, the United States' largest trading partner, is also the subject of the new Administration's attentions. Through an Executive Order, President Trump has re-authorized the Keystone XL and Dakota pipelines, but with an important condition – the steel for the pipes must be Made in the USA. The company that's building Keystone XL is Canadian, but that country's Prime Minister, Justin Trudeau, has indicated previously that he's willing to renegotiate NAFTA.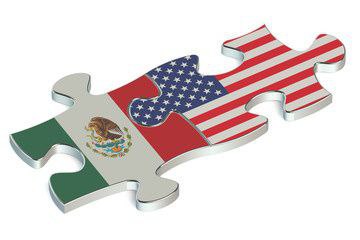 Image: Graphic representation of manufacturing partnerships between Mexico and the U.S.
Mexico, which is also a party to the trilateral trade agreement, is rumored to be considering leaving NAFTA altogether. Recently, Mexican President Enrique Peña Nieto canceled a planned meeting in Washington because of his Trump's contention that Mexico will pay for a border wall. U.S. companies that manufacture products in Mexico are the subject of a presidential promise, too. Repeatedly, Trump has stated that these firms could face "a major border tax" of 35% when their products are shipped into the United States.
Earlier this month at the North American International Auto Show, the CEO of Fiat Chrysler warned that his company would have to consider closing its factories in Mexico if the Trump Administration succeeds in imposing steep new tariffs. "If they are sufficiently large," said Sergio Marchionne, "it will make the production of anything in Mexico uneconomical and therefore we will have to move on." For engineers and buyers across the automotive supply chain and in many other industries, Marchionne's analysis may also be applicable to China.
Like Mexico, China has many concerns that could affect trade. When President-Elect Trump placed a phone call to the President of Taiwan last December, China lodged a diplomatic complaint. According to Bloomberg, China also plans to retaliate if the U.S. imposes steep tariffs. These measures could include decreasing government purchases from American companies, or targeting U.S. corporations with anti-dumping, anti-trust, or tax investigations. These risks, in addition to China's rising labor rates, could make the world's second largest economy less attractive as a reshoring destination.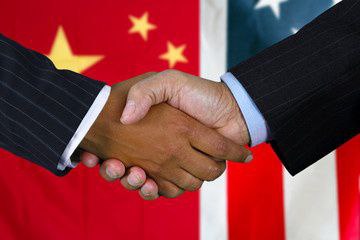 Image: Graphic representation of an international trade agreement
As president-elect, Donald Trump worried Wall Street by proposing a 45% tariff on goods imported from China. In states like California, where many U.S. technology giants are based, the consequences could be far-reaching. According to the research consultancy firm Capital Economics, and as reported by CNBC, China supplies 75% of the mobile phones and 93% of the tablets or laptops shipped to the United Sates. A 45% tariff could slow China's economic growth by as much as 3%, thus reducing demand for American-made goods.
Taxes and Regulations
As President Trump neared the one-week mark of his term, the White House announced its support for an idea that Congressional Republicans have proposed as part of a broader effort to overhaul corporate taxation. A 20% tax on all imports to the United States would require legislation rather than an Executive Order, but could raise significant revenue if enacted. "We can do $10 billion a year," claimed Sean Spicer, White House Press Secretary, in a January 27 meeting with reporters aboard Air Force One. Whether this amount would address Senator Majority Leader Mitch McConnell's "preference" that tax reform be revenue-neutral remains unclear.
During and after the presidential campaign, Donald Trump described his own plan to lower the business tax rate from 35% to 15% and to eliminate the corporate alternative minimum tax. The Trump Plan also provides a deemed repatriation of corporate profits held offshore at a one-time tax rate of 10%, and eliminates most tax corporate tax expenditures except for the Research and Development (R&D) tax credit, part of the tax code that supports manufacturing innovation.
For firms that manufacture in the United States, the Trump Plan also offered specificity. Qualifying companies may elect to expense capital investment and lose the deductibility of corporate interest expense. Once made, an election can only be revoked within the first three years. For individuals, the Trump Plan reduces the number of brackets from seven to three. Businesses, including manufacturers, which pay a portion of an employee's childcare expenses can exclude those contributions from income.
In addition to tax cuts, Candidate Trump promised to ease the regulatory burden on business. Recently, President Trump told a group of business leaders that his administration could cut regulations by as much as 75%. The audience was largely receptive, but consumers of manufactured goods may feel differently. As National Public Radio (NPR) noted, regulations from the Food and Drug Administration (FDA) help ensure that everything from processed foods to medical devices are safe.
According to Robert Hahn, a researcher from the liberal-leaning Brookings Institution, President Trump would be well-advised to play "a short and a long game" with regulations. Hahn recommends assembling a bipartisan commission whose task would be to identify regulations whose repeal would contribute to long-term economic prosperity. The Brookings scholar also calls for "legislation that brings about lasting institutional change" and that creates a Congressional Office of Regulatory Analysis (CORA).
President-elect Trump hosted leaders from across the political spectrum during this post-election ensconcement in Trump Tower, but it seems more likely he'll heed advice from the Heritage Foundation, a conservative think tank that reports the Obama Administration was responsible for the imposition of 229 major regulations 2009 at a cost of $108 billion annually since 2009. Just hours after his inauguration, President Trump signed a memorandum that halted any new regulations until they are reviewed.
Trade groups like the National Association of Manufacturing (NAM) surely took note. Two days before Trump took office, NAM released Holding Us Back – Regulation of the U.S. Manufacturing Sector. According to a NAM survey, 87% of manufacturers said that if compliance costs were reduced permanently and significantly, they would invest the savings on hiring, salaries and wages, R&D, or capital replacement. Nearly 95% said that the regulatory burden had become higher in the past five years.
Manufacturing Assistance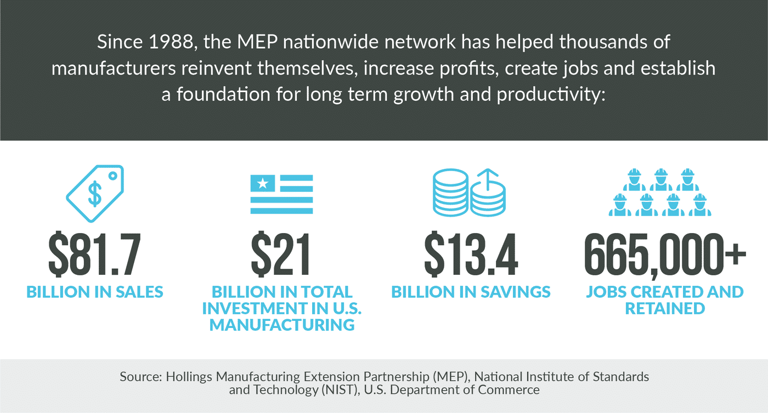 U.S. manufacturers generally support lower taxes and fewer regulations, but some companies access federal programs that provide business and technical assistance. According to Blueprint for a Balanced Budget, a report from the Republican Study Committee (RSC) that could inform President Trump's thinking, several of these programs should be eliminated. The RSC, a caucus of 172 conservative members of the Republican Party in the U.S. House of Representatives, cited the following specifically:
The Advanced Research Projects Agency – Energy (ARPA-E), which was launched in 2009 and funds high-risk green energy projects.
The Office of Energy Efficiency and Renewable Energy (EERE) program, which invests R&D in the fields of energy efficiency and renewable energy technologies.
The Economic Development Administration (EDA), which provides grants and technical assistance to economically-distressed communities in order to generate new employment, help retain jobs, and stimulate industrial growth.
The International Trade Administration (ITA), which provides counseling to U.S. companies in order to develop profitable and sustainable plans for pricing, export, trade promotion assistance, market intelligence, and industry-specific research.
The Heritage Foundation, a conservative think tank, has also proposed eliminating various programs that U.S. manufacturers can access. Examples include the Manufacturing Extension Partnership System (MEP), a nationwide network that provides business and technical assistance to small-and-medium manufacturers; and the Export-Import Bank, which provides export credit to U.S. manufacturers when private sector lenders are unwilling to provide financing.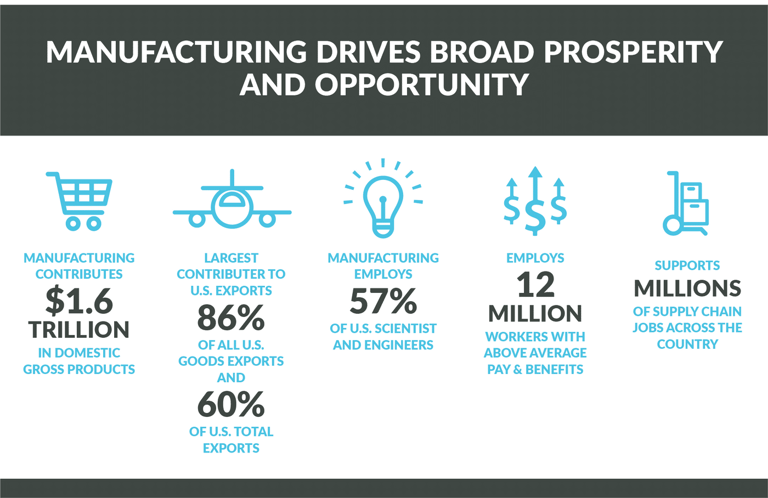 Conclusion
Will President Donald J. Trump transform U.S. manufacturing with regard to trade, taxes and regulations, and manufacturing assistance? The President's public statements and executive actions have sent strong signals, but there are other players to watch both in Washington and around the word. Congress holds the power of the purse. Federal agencies formulate regulations. China, Mexico, and other U.S. trading partners face domestic pressures of their own.
For U.S. manufacturers, there are no easy answers. President Trump's tweets may capture the headlines, but how much actionable information do these 140-character communications really contain? Allegations of "fake news" now span the political spectrum, but there are reputable sources that provide regular reporting about news and trends in American manufacturing.
In addition to in-depth analysis from think tanks and trade associations, U.S. manufacturers can turn to websites such as Industry Week and Manufacturing.Net. Reporters at both organizations generally seek to be practical instead of political. Plus, these digital channels offer e-books and webinars on timely topics such as export negotiations. Other trade publications, such as Rubber & Plastics News, target narrower audiences, but cover government and legal affairs in terms of how they affect a specific industry.