How does our 25-year history of collaboration with LORD Corporation benefit our Partnership Accounts? Put another way, why would you simply order direct without bringing in the 25-years of cooperation and know-how developed during this long-standing relationship? Are you really saving time and money? Let's check out this assumption and see if it passes the fallacy or fact test!
-- Article Continues Below --

Helping you select the right vibration isolator
I prefer to go direct.

We can't even count the number of times we've heard the phrase "I prefer to go direct". We simply smile when we hear this. We don't mean to be disrespectful, however, we welcome this opportunity to have the conversation about the benefits of using LORD vibration isolators and to delve into the exact solution required to improve the performance of their product.
Let's tackle this one head-on. What does going direct mean today? When we think about going direct to a manufacturer to buy a product, we generally assume we will receive a better price, direct access to technical information, faster delivery and, honestly, a better buying experience. In some cases, all of those assumptions could be true. As a manufacturer, distributor and consumer of industrial products, we've identified a need to check our assumptions from time to time. Speaking of checking assumptions, we recently published a LORD Design Monograph addressing a few common fallacies.
What value is Modus® really adding?

So, let's check those assumptions and see if they pass the test. Our guess is paying a lower cost for a vibration isolator is probably the number one reason to try and go direct to LORD. Getting the obvious out of the way, if you're in the market to buy a million rubber vibration mounts, go direct. LORD is perfectly set up to serve multinational OEM's who are buying at scale.
At the other extreme is a mechanical engineer who needs four LORD isolators to prove out a concept. Modus Advanced, Inc. is ready and willing to provide prototype support and perhaps save hours of going down a completely wrong path. If you have time, read this Case Study showing the value of reaching out to the experts at the git-go.
Where does that leave us? The 95% of customers who aren't buying millions of mounts. Let's get back to the price discussion. Over the course of the last 25 years, LORD and their five industrial products distributors have worked diligently to craft a model optimized to serve customers with speed and precision. Economies of scale matter in this case. To put it simply, LORD is in the business of manufacturing high-performance vibration isolators. Plants in Bowling Green, Kentucky, Cambridge Springs, Pennsylvania, and other locations are perfectly set up to manufacture thousands of variations of rubber to metal bonded vibration isolators.
Modus Advanced, Inc. and the other LORD distributors work closely with LORD to forecast demand and then optimize bulk purchases. The purchasing strategy helps align LORD's engineering and manufacturing strengths with the distributor's intimate knowledge of how the customer prefers to buy LORD mounts. A couple of reasons buying direct from an authorized LORD distributor makes sense from a cost standpoint:
It leverages the distributor's ability to buy in bulk and sell in appropriate quantities.
Consolidating catalog parts purchases under a North American distribution system leads to economies of scale for LORD's manufacturing and support teams.
The actual LORD distribution network plays a key role in delivering high-performance LORD mounts at the lowest possible cost. This network supports the North American customer base by actively trading inventory to meet customer requirements. Trading reduces overall costs in some cases by allowing for the delivery of less popular mounts without having to apply minimum buy requirements.
We touched on cost and the supply chain. How else do LORD's distributors add value to the customer experience? Engineering support comes to mind! We like to think customers who leverage LORD-trained engineering support realize more value than customers who prefer to go it alone. Wait, LORD trained? Engineering professionals specifically trained by LORD to help solve challenging vibration isolation issues.
What does engineering support actually mean? To put it simply, engineers employed by the LORD distributors have been trained to work directly with OEM's to specify the appropriate vibration or shock mounts the first time. They bring together the best of human and machine intelligence to help accelerate the process of delivering tomorrow's innovations. Why leave it up to chance? In this technology-enabled age, why would anyone want to go through a test and retest scenario when they can rely on engineering support in the form of humans augmented by software?
How our 25-year collaboration quickly resolved a critical problem.
Modus® received an inquiry from a major Southern California theme park operator. Their engineering team had a vibration problem with a new attraction. The team asked that we send someone out to help them solve the problem. Okay, let's pause here for a moment to lay the foundation using bullet points.
The customer identified a vibration issue.
Their engineers were concerned excess vibration could affect the performance of the attraction.
A quick evaluation of the impact of attraction-downtime prompted communication with Modus Advanced, Inc.
Modus® agreed to meet at the customer site at 5:00 AM to evaluate the situation.
Collaboration on site and a review of the situation resulted in a plan-of-action.
Software-based mount selection analysis was performed resulting in an immediate proposed solution.
Sample mounts were selected with over 95% confidence that the solution would not only resolve the vibration problem but avoid downtime.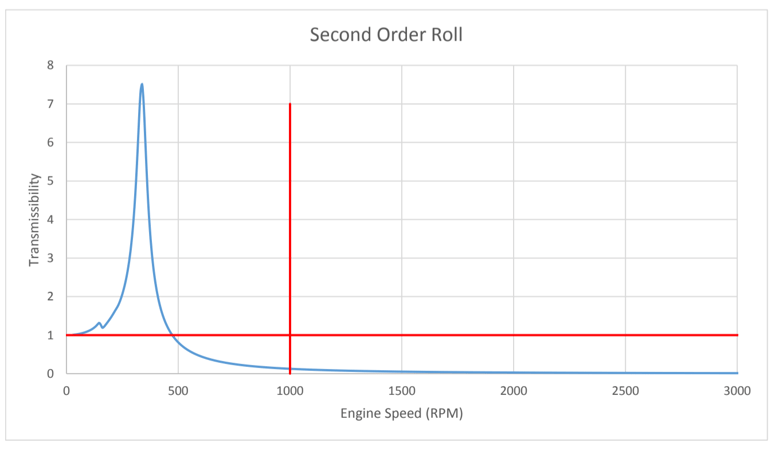 In the end, a scientific problem-solving approach based on our real-life tried and true experience resulted in the virtual elimination of potential vibration-related downtime. It's a little difficult to put a price on attraction reliability when we're talking about millions of visitors per year. Obviously, our customer's investment in high-quality LORD mounts pays off in many ways, including reliability, endurance, and safety.
Conclusion

Over the 25-year established partnership between Modus® and LORD, there's not much we haven't seen and solved together. We've found that sometimes it pays to reach out for answers, even when you believe you have them. Your authorized LORD distributors are ready to help.