Engineer Academy | Parker LORD | vibration isolation
The engineering teams at Parker LORD apply their exceptionally robust custom-designed software to gain an advantage when solving Original Equipment Manufacturers (OEMs) vibration isolation and shock challenges. The question is, why wouldn't companies who manufacture rubber to metal bonded vibration isolators employ the use of current technology to their advantage? It is more surprising to know that not every mount manufacturer leverages such technology in today's technology-savvy world.
So, What is a Vibration Isolator? Vibration isolators perform the basic function of, you guessed it, reducing the amount of transmitted vibration. Reducing vibration transfer through the use of rubber mounts offers a number of benefits. Very real benefits include prolonged equipment life, increased operator or passenger comfort, and even the perception customers have that your product is superior to the competition because it's not vibrating as much.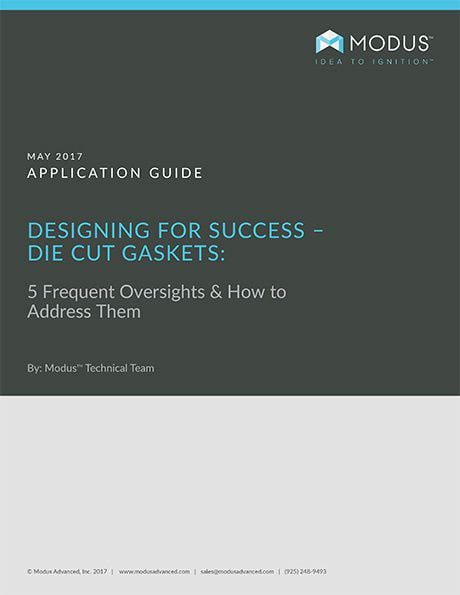 Die Cut Gaskets eGuide: 5 Frequent Design Oversights & How to Address Them
If you make a mistake during the design phase, you run the risk of going over budget and not receiving your solution in time. Our latest eGuide will help you avoid these common design oversights. Get a free copy by subscribing to our blog.
The LORD Channel Partner Model Hi, I'm a LORD Channel Partner! You're a what? I know, it's a weird way to start a conversation with an engineer trying to solve a critical vibration isolation issue. The introduction always happens with a smile and then is usually followed by a discovery conversation. Modus Advanced, Inc. has been a trusted LORD Channel Partner for over 25 years. Over the years the program has been optimized into a finely tuned system designed to bring LORD's engineering and problem-solving skills to local customers via a collaboration with their Channel Partners. Together we help customers specify the correct high-performance rubber-to-metal bonded vibration isolators and then Modus® adds further value by stocking the parts in Livermore, CA for immediate delivery. Yes, of course, we love it when customers provide forecasts of their potential demand and place blanket orders!
3M | LORD | Nolato | Rogers | technicon | vibration isolation
Modus Advanced is a diversified company who helps take Original Equipment Manufacturers (OEMs) from Idea to Ignition™ by converting high-performance materials into finished products. We solve challenging engineering issues through the use of EMI shielding; die-cut gaskets; microwave absorbers; noise vibration and harshness products; custom molded rubber and thermal interface materials.
How does our 25-year history of collaboration with LORD Corporation benefit our Partnership Accounts? Put another way, why would you simply order direct without bringing in the 25-years of cooperation and know-how developed during this long-standing relationship? Are you really saving time and money? Let's check out this assumption and see if it passes the fallacy or fact test!