FIP gaskets | Form-in-place gaskets | Machining | Nolato | RF shields | SigShield
What makes Modus™ unique is as much our process as it is our product. Not just the standard and expected process of manufacturing, but the dedication to evolution in our work for the benefit of our customers. Our custom machined RF shields are the perfect example of this commitment in action. The SigShield™ product realization process was specifically created to help customers meet demanding project requirements and the insane deadlines they face.
FIP gaskets | Form-in-place gaskets | Machining | RF shields
Historically a rubber seal and gasket company, Modus Advanced, Inc. recently ventured into the machining business due to increased demand for quick turn RF shields. We now produce complete radio frequency (RF) shields from start to finish, beginning with the machining of the aluminum to the dispensing of a form-in-place (FIP) gasket.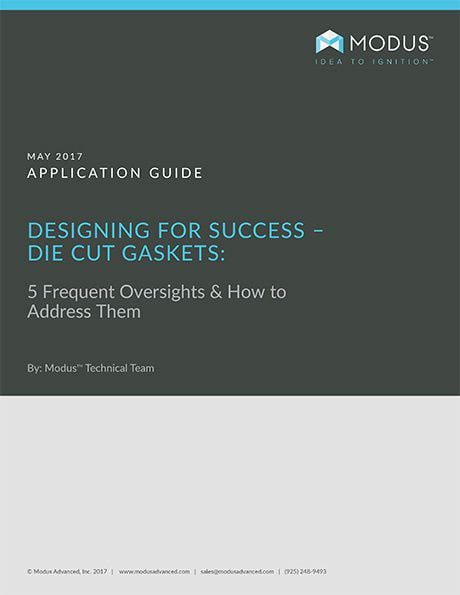 Die Cut Gaskets eGuide: 5 Frequent Design Oversights & How to Address Them
If you make a mistake during the design phase, you run the risk of going over budget and not receiving your solution in time. Our latest eGuide will help you avoid these common design oversights. Get a free copy by subscribing to our blog.
Engineers can spend days or even weeks designing the ideal aluminum RF shield for their application. Fastener placement, wall thickness, cavity location, materials and many other factors are engineered to optimize performance. When Modus Advanced, Inc. began milling RF shields, the company was faced with a question; which of the many choices of measuring equipment is best suited to verify our processes are producing shields that meet customer's specifications?
RF shields | Radio frequency shields
Silicone form-in-place (FIP) electromagnetic interference (EMI) shielding gaskets have a job to do. The electrically conductive FIP gasket bridges the gap between machined aluminum shields and PC boards create a faraday cage. When designed correctly, machined aluminum shields with conductive FIP gaskets provide effective EMI protection for sensitive electronics. What does "designed correctly" mean? There are obviously many factors that affect shielding performance. They're all fun and exciting to talk about, but our focus in this blog post is on the use of mechanical compression stops to help avoid gasket related issues.
Additive Manufacturing | Processes
Additive manufacturing (AM), or three-dimensional (3D) printing, is the process of creating a 3D solid object of nearly any shape from a digital model. The technology has lead to innovations in a vast array of industries since the 1980s. The process has widely contributed to the biomedical field with the creation of biocompatible veins, to national security with the production of unique parts for the U.S. nuclear weapons stockpile, and to aerospace applications by more rapidly and simply generating products needed for unmanned aerial vehicles and satellites, among other notable applications. While already impressive, AM technology only continues to mature and diversify.
Industry Trends | Processes | custom molded rubber parts
Regardless of industry, designing a custom product is a challenge in itself, let alone unleashing the design into production. So how can your company ensure it is selecting the best production methods for your unique product? Efficient manufacturing requires forethought, planning and exceptional components. Design engineers want prototypes quickly and, in order to stay in the game, manufacturers must perform.