Providing relevant information on cutting-edge manufacturing materials and processes to help our partners move from idea to ignition.
10 Things to Expect from Your Custom Gasket Manufacturing Partner
So you are looking for a new custom gasket manufacturing partner, or trying to decide if a potential partner is the right fit. Below we've categorized a rigorous list of checkpoints to consider, which will help you answer that question thoroughly before you even begin working with them!
10 Questions to Ask Yourself When Choosing a Material for Your Custom Gasket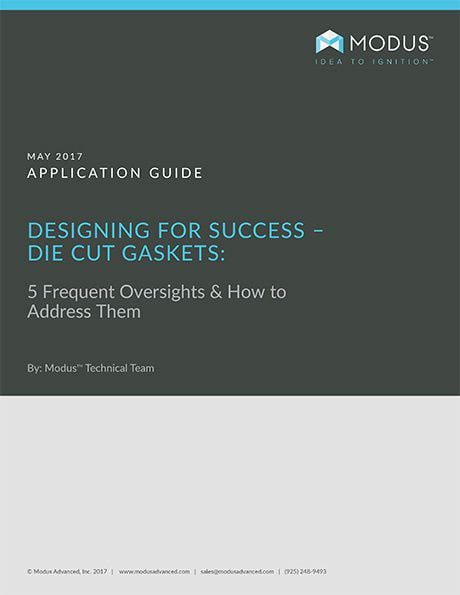 Die Cut Gaskets eGuide:
5 Frequent Design Oversights & How to Address Them
If you make a mistake during the design phase, you run the risk of going over budget and not receiving your solution in time. Our latest eGuide will help you avoid these common design oversights. Get a free copy by subscribing to our blog.
27 Materials for Custom Gaskets and Their Purposes
8 Important Design Considerations for Custom Gaskets
Replacing Gore GS2100, 5200, and 8000 EMI Products in Your Application
Modus Advanced, Inc. Waterjet Cutting Tolerances
Modus Advanced, Inc. Digital Cutting Tolerances
Clients new to manufacturing are often overwhelmed by the various cutting methods available. Terminology is confusing. At first glance, you may find far more options than you actually need. After some research, you'll find that there are four fundamental cutting solutions:
Idea to Ignition™ Ep. 5: Partnership Accounts
Modus Advanced, Inc.: Proudly Manufacturing in the USA
Idea to Ignition™ Ep. 4: Revolutionizing RF Shield Production with SigShield™