When you choose a manufacturer for your gasket design, the tools they use to get the job done don't matter as much as their ability to do it on time and within budget. Right? Not exactly.
As it turns out, in manufacturing environments that require precision and expert engineering, such as form-in-place gasket dispensing, the tools the manufacturer uses have an enormous impact on their ability to do the job right.
That's why the team at Modus Advanced only works with the best tools. When it comes to form-in-place (FIP) gasket dispensers, the best tool is a Datron Dispensing Machines. Datron sets the standards for the entire form-in-place manufacturing industry, and then it smashes those standards with new and innovative tools.
Intricate, important implements like FIP gaskets require a dispensing tool that's up to the challenge. Read on to learn more about why we use Datron FIP gasket dispensers.
If you want the best, you have to work with the best. That's why Modus Advanced works with Datron, and it's why you should work with us. Contact us to learn more about our manufacturing services.
--Article Continues Below --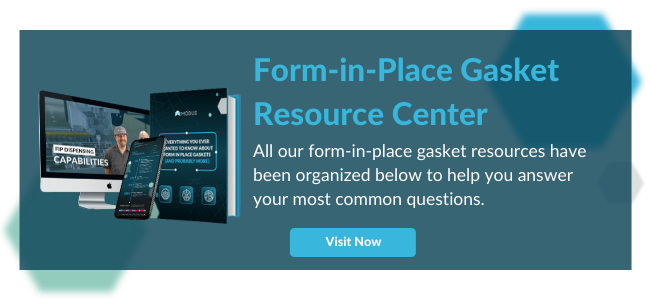 Visit the Modus Form-in-Place Gasket Resource Center
An FIP Gasket Dispenser That is Fast to Program
One of the most important qualities of our services is speed. We know our customers need their FIP gaskets done quickly, and that's one of the key reasons we use Datron FIP dispensers. Especially in the prototyping phase, this dispenser excels at high-impact, low-volume gasket manufacturing that may require a lot of small changes.
Here's why: Datrons use the newest manufacturing technology. These are computer numerical control (CNC) machines. That means they don't require a lot of human intervention. If you're at all familiar with the FIP gasket dispensing process, you know that the human part is the part that can often consume a lot of time.
These CNC machines allow you to program them using a computer instead of painstakingly "teaching" them how to dispense your FIP gasket. Other FIP gasket dispensers require you to physically walk them through all of the steps. You have to go to the starting point for the dispenser, record it and move to the end of that particular line, and record that. Then, you repeat that process for every line and contour.
If you have 100 or more contours and many of the lines involve loops or curves, this process can become laborious pretty quickly. And the one thing our customers don't have is a lot of time to wait for their prototype or completed project.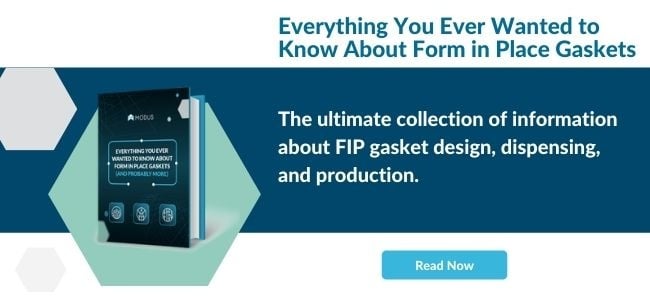 Read everything you ever wanted to know about FIP gaskets.
Simple FIP Gasket Dispenser Adjustments for Efficiency and Perfection
Here's the thing about working with sensitive or intricate designs that require FIP gaskets: they undergo a lot of changes during the early phases of prototyping. These devices have to work perfectly. To get them to that point, you have to make a lot of adjustments to the FIP gasket dispenser to overcome any issues or imperfections.
For non-Datron FIP gasket dispensers, those kinds of adjustments often involve reprogramming the entire thing. But with a Datron, you can tweak one or two contours at a time without having to go back to square one.
This saves time, obviously, but that time translates to something else: money. Manufacturing is expensive, and we want to be as efficient as possible for our customers to respect their budgets. Our Datron gasket dispenser allows us to do that.
Datron Dispensers Play Nice with Other Tools
FIP gaskets are complex little parts and beautiful (to us) when they're done right, but they are parts of a whole device. That device may require multiple parts that involve different FIP gaskets, as well as dozens of other implements.
To meet the demands of complex manufacturing jobs, we need an FIP gasket dispenser that can integrate with other tools to get the job done the way it needs to be done. Datron dispensers are up to that challenge.
Let's illustrate that statement with an example. Working with a design that involved two parts with differently designed FIP gaskets, we were able to integrate a laser height measurement capability with our Datron dispenser. This new tool worked perfectly with the Datron to measure the different heights of the dispensing surfaces and automatically adjust the programming to follow those height variations.
That kind of adaptability is exactly what we need to best serve our clients.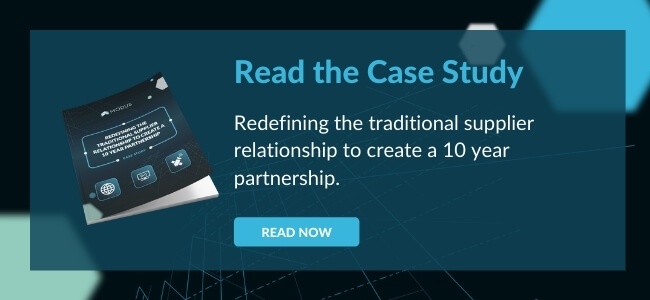 Learn how Modus is redefining the traditional supplier relationship
A Form-in-Place Gasket Dispenser That Accounts for Viscosity
When an FIP gasket dispenser actually dispenses a gasket, it does so in a liquid form. That liquid then cures over a specific amount of time. The liquid FIP gasket material has a viscosity range that's important to understand and account for as the gasket is dispensed to make sure it fills the dispensing surface fully and evenly.
The problem is that the viscosity of the gasket material changes during the dispensing and curing. Exposure to moisture, chemical reactions with other materials and similar factors can all affect the viscosity of the gasket material that is being dispensed. That can cause imperfections in the resulting gasket if you don't make changes to account for differing viscosity.
Datron FIP gasket dispensers account for this potential problem by providing a detailed control system. This system controls the behavior of the dispenser with 12 variables, each of which can be adjusted quickly and precisely to account for changes in gasket material viscosity.
Cutting-Edge FIP Gasket Dispensing with Modus Advanced
At Modus Advanced, we live on the cutting edge. That's where our customers need us to be in order to deliver gaskets, housing and many other parts with precision and perfection. To make sure we deliver, we work with the best tools. One of those tools is a Datron form-in-place gasket dispenser.
Ready to get the best in FIP gasket manufacturing and more? It's time to contact us. Give us a call at (925) 960-8700 or contact us online today.