Company | EMI Shielding | Nolato | Processes
'Leaving it to the experts' can be a mutually beneficial proposition for both the expert and the other party. In industry, this concept is a convenient way of allowing both parties, each familiar with a certain field, to hone their skill set and become trusted, esteemed experts in that field.
When you have a need for "speed", quick-turn parts can be your salvation! The production of quick-turn parts necessitates both quality methodology and a single supply chain comprised of multiple manufacturing steps. Engineers can achieve both quality and quick-turn through vertical integration. This approach combines the production of base components and supporting processes all under one roof, saving time and money by shortening your supply chain to one manufacturer!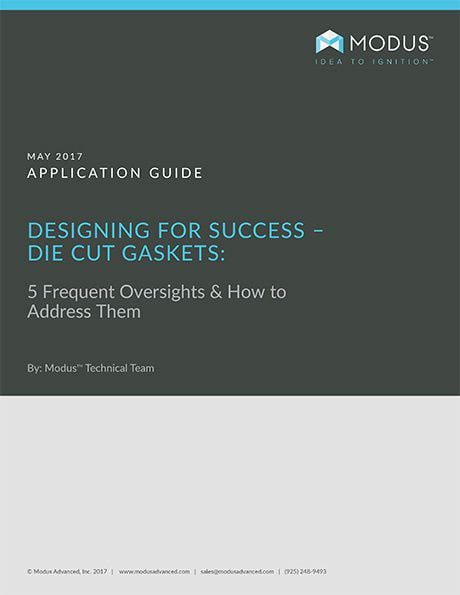 Die Cut Gaskets eGuide: 5 Frequent Design Oversights & How to Address Them
If you make a mistake during the design phase, you run the risk of going over budget and not receiving your solution in time. Our latest eGuide will help you avoid these common design oversights. Get a free copy by subscribing to our blog.
EMI gaskets can be fabricated through a variety of methods. The most common techniques tend to be die cutting and compression molding. Some shielding gaskets, such as EMI O-rings, can be cut by hand and then cold-spliced or vulcanized. Water jet cutting and digital or die-less cutting are also used in EMI gasket fabrication. These methods are good choices for prototyping and lower-volume production because there's no custom tooling.
Nickel-graphite silicones are cost-effective compounds that combine the advantages of silicone rubber with the electrical properties of nickel. They are fabricated into gaskets and installed between metal surfaces to provide limited environmental sealing, excellent electrical conductivity, and resistance against electromagnetic interference (EMI). Nickel-graphite silicones aren't the only shielding elastomers for EMI gaskets, but they offer advantages over silicones that are filled with silver or silver-coated particles. To determine whether nickel-graphite silicones are right for your sealing and shielding application, it's important to evaluate all of your business and technical requirements.
Die cut gaskets for EMI shielding and other applications are reliable, customizable, and cost-effective. As a manufacturing technique, die cutting combines proven technologies with efficient approaches to gasket fabrication. Specific die cutting techniques vary, but most methods involve two core components: a metal tool called the die, and the die cutting machine itself. Die cutting is a smart choice for connector gaskets, but it's also used to produce many other types of seals and insulation.
The purpose of EMI shielding gaskets is to protect and enhance the performance of electronic devices and equipment by creating a conductive path between two surfaces. The gaskets work to ensure the electrical conductivity required in your design is reliable and solid. Additionally, and maybe more important, they prevent the transmission of electromagnetic interference (EMI) disturbances which can disrupt or destroy electrical circuits. This article explores the top four EMI shielding gasket manufacturing methods.