So Much More than RF Shielding:
THE SIGSHEILD™ PROCESS
LEVERAGING VERTICAL INTEGRATION TO DELIVER YOUR RF SHIELDING SOLUTION FASTER.
Download the PDF
You're looking for faster lead times to machine your radio frequency (RF) Shields, because each day sooner you can bring your product to market means a huge impact on the bottom line.
Learn how SigShield can help you get there faster. The product realization process behind SigShield that takes your custom RF Shield from idea to reality provides you with:
A single-vendor solution: one vendor for the entire machining process means less risk for error and faster results.

A more robust final product: the use of Nolato Trishield® shielding material means you get flawless RF shielding effectiveness.

Unrivaled quality: SigShieldTM meets the strictest compliance standards including AS9100, NIST 800-171, and DFARS 252.204-7012.

Access to experts: our 4-step production methodology creates a collaborative experience where you work directly with our most experienced engineers to build the ideal shield to meet your project requirements.
It means you can expect your custom-built, turnkey RF shield delivered in about half the typical lead time you'd expect from other manufacturers.
The traditional approach used to manufacture RF shields is through the use of multiple vendors. RF shields are typically manufactured by a preferred shop and shipped to other vendors for specialized processing for specific needs like dispensing Form-in-Place (FIP) gaskets.
This means that your shield must pass through the hands of multiple vendors, including ship-time between those vendors before the finished product is in your hands.
By contrast, with a vertically integrated manufacturer, like Modus Advanced, Inc., the entire process for building RF shielding parts is housed under a single roof, meaning your shield can move through each stage in the manufacturing process as soon as it is ready, significantly speeding up the process.
It means you reduce your risk for error, and in some cases, reduce your cost to manufacture.
Our process incorporates Design for Manufacturability (DFM) reviews that ensure your designs will produce the best final manufactured results, using the exact same engineers responsible for building your product.
This step in the process helps our team identify machining and form-in-place gasket issues prior to production. This practice alone has reduced lead times and production costs by 25% on some projects.
It means you end up with a higher-quality final product.
We use only the highest quality of products and the most up-to-date manufacturing practices across our entire vertically integrated manufacturing process.
All of our custom RF shields are built with premium Nolato EMI shielding materials and thermal products and are manufactured locally in our Livermore facility which holds numerous quality certifications.
We built the SigShieldTM Product Realization Platform to better serve our customers, in a way no RF shield manufacturer has in the past. Instead of building our process around ourselves, we built a process that helps us get it right the first time for our customers and deliver on our promises.
The SigShield platform allows you to work with a single source from RF shielding part design through production, meaning your shield is executed with speed and precision, ultimately helping you advance your business.
Creating a value chain by controlling the various manufacturing elements from start-to-finish, vertical integration gives Modus® the ability to provide you:


Transaction cost savings through vendor reduction

Reduction in lead time and shipping costs realized with a shorter supply chain

Quality assurance that is controlled and guaranteed by a single vendor during each step of the manufacturing process

Quicker and easier methods to process revision changes if necessary

Close communication between the engineering and manufacturing teams, increasing project success rates
Our SigShieldTM product realization process is founded on three principles: the Modus® Idea to IgnitionTM manufacturing methodology, the inclusion of best-of-breed Nolato Trishield® form-in-place (FIP) gasket materials, and providing the best end benefits to our customers.
At Modus®, we believe you deserve the best. Our methodology is not just a group of steps, but what we've found over years of experience to be the best expression of value to our customers.
The 4-step Idea to IgnitionTM methodology is the framework used to plan, manufacture strategically, and deliver you turnkey machined RF shields in about half the typical lead time.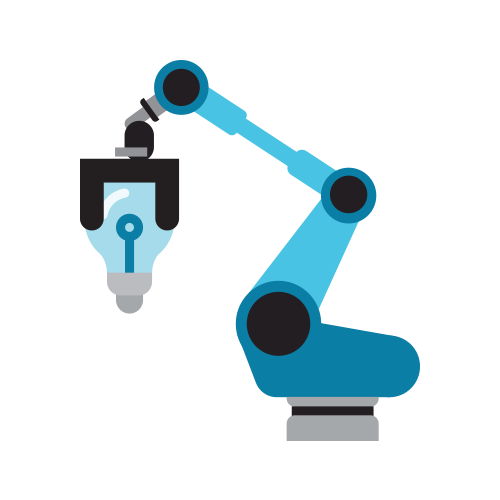 IDEA // MAP IT
The process begins with an initial review of your RF shielding part design. This allows the team to ensure we are the best fit to build your custom design. Early supplier involvement allows for faster issue identification and ultimately, shorter lead times. We are committed to helping you get your design right the first time and is key to project success.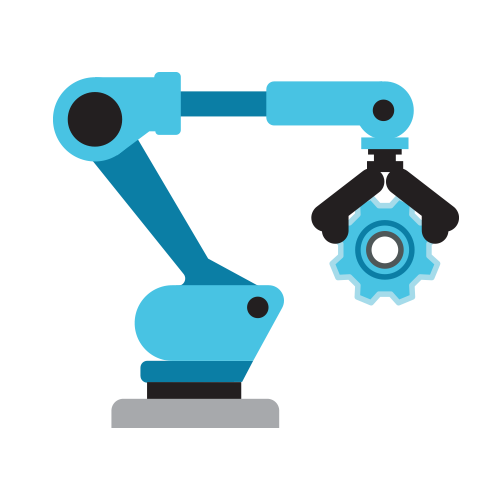 ENGINEERING // DEEP DIVE
When the project is determined to be a good fit, it's time to define materials, methods, project automation, pricing, and cost reduction options. A deeper dive and a design for manufacturability (DFM) discussion in the engineering stage will help speed your RF shield through production by deeply reviewing your shielding requirements. The deep dive helps our team identify machining and form-in-place gasket design issues prior to production. The Engineering step has literally reduced lead times and production costs by 25% on some projects.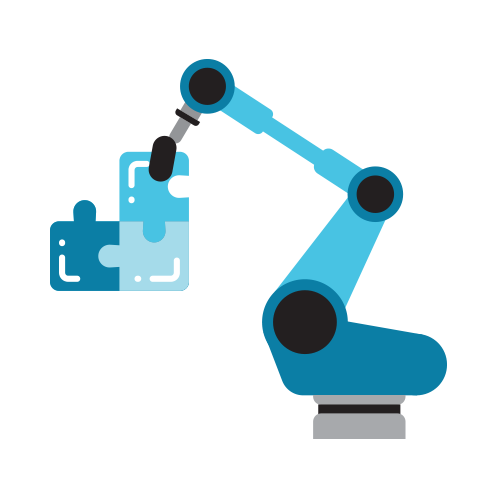 SOLUTION // VERIFICATION
When the purchase order has been received and the design for manufacturability (DFM) completed, we move into the Solution stage. Our cross-functional team will perform a 360- degree analysis to ensure we captured both design and purchase order requirements. The details are examined, and all last-minute questions are answered during this stage which dramatically increases project success rates.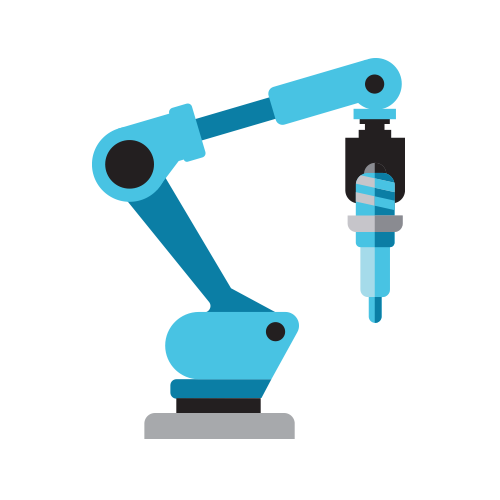 IGNITION // MAKE IT
Using both VMC and HMC technologies, the aluminum RF shielding part is machined and then sent out for plating. Threaded inserts can be installed in-house, then the shield is moved over to our dispensing department where the Nolato Trishield® form-in-place gasket is applied. The whole product realization process is completed in about half the typical lead time.
Machining RF shields 100% in-house gives Modus Advanced, Inc. the ability to remove constraints when compared to a multi-vendor approach. Controlling the manufacturing process from start-to-finish provides the ability to execute projects with speed and precision.
State-of-the-art precision Okuma Horizontal Machining Centers (HMCs) and Vertical Machining Centers (VMCs) help to address potential milling issues as they arise. These technologies provide tremendous time-savings, and have the added benefit of ensuring the highest quality output.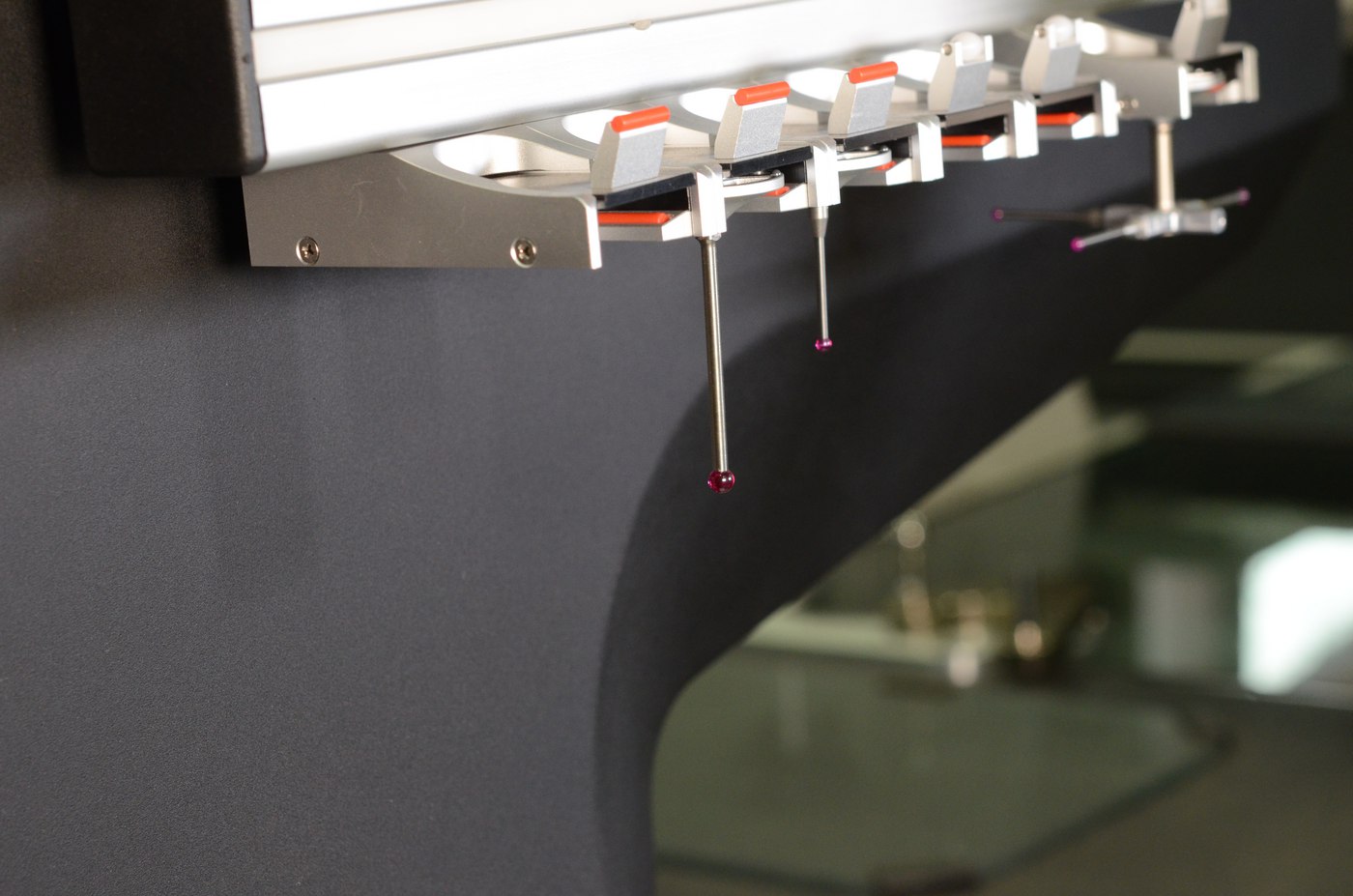 Your RF shield starts as raw materials, which are subsequently loaded into the milling machines and transformed into shields that exactly meet your purchase order's specifications. The HMC and VMC machines include automatic tool changers in addition to robotics to greatly reduce operator intervention and work time in producing your housing or enclosure.
Our manufacturing facilities hold AS9100 quality certifications and comply with NIST 800-171 and DFARS 252.204-7012, so you can rest assured that you are also getting a top quality product and your information remains secure.
The importance of having highly trained and experienced machine operators cannot be minimized. The technology involved in machining RF shields is complicated, complex, and challenging, which is why we have degreed engineers working in the process to help get it right the first time.
Traditional electromagnetic shielding gaskets are die-cut from a separate piece of material to form a seal between surfaces to prevent electromagnetic interference. While this method is still a mainstay (and even one we still use to manufacture some of our performance polymer-based products), manufacturing FIP gaskets provides countless benefits for magnetic field shielding that are simply not possible with die-cut seals.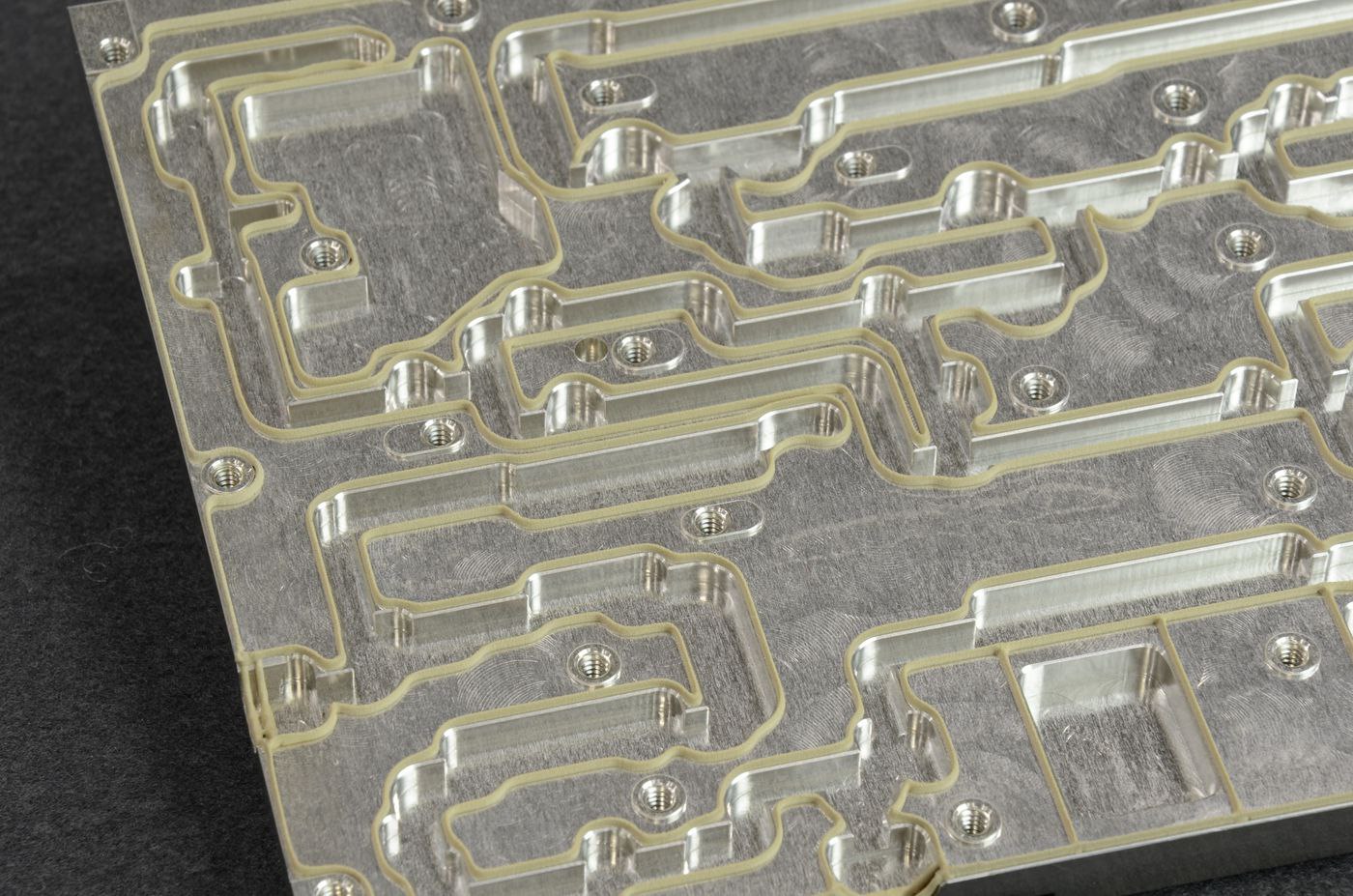 Custom FIP gaskets:
Provide lower compression force

Use less material to create a thinner, smarter and more flexible seal

Allow for shorter production time

Provide excellent shielding effectiveness combined with superior mechanical performance
Your RF or EMI shield will use only the best form-in-place gasket materials. Nolato is an international high-tech developer of material for EMI shielding solutions made of electrically conductive silicone. With the wide range of Nolato elastomeric compounds available, Modus® integrates Nolato's trusted Trishield® products and dispensing process into SigShield™.
Nolato Trishield® FIP gaskets are dispensed on the machined shields using high precision Datron robots. The many advantages of FIP include no assembly, no tooling, and rapid handling which results in cost-efficiency. The process dispenses a precise string of electrically conductive silicone directly onto your RF shield. The material is then formed into its characteristic triangular shape designed for optimum compression force.
Trishield's® bead height is normally between .5 to 2 mm. Up to 3mm in height is possible with Trishield® 2.0 technology. The narrow Trishield® triangular-shaped gasket overcomes the need for a wider profile, lack of bead control, or creating a double bead inherent in traditional dispensed gaskets.
Reduced material consumption, shorter cycle times, lower cost, and smaller compression force are some of the advantages Trishield® offers.
Nolato Trishield® Compared to Die Cut Gaskets:
No assembly work, dispensed directly on the machined RF shield

Dispensed gaskets are thin and take up less space

No resulting scrap material as are present in die-cutting
Main Characteristics:
The materials are two-component thermal cured silicone.

Trishield® EMI shielding gaskets are dispensing directly on prepared components.

The patented Trishield® gasket offers a triangularly shaped narrow gasket with less material consumption and less compression force.

Low viscosity offers short cycle times in a dispensing machine.

Trishield® offers excellent shielding effectiveness combined with good mechanical properties.

Operating temperatures are between -55°C and +125°C.

Provides good adhesion to most metal and metalized surfaces.

Typical gasket height is from .5 to 2 mm.

Width to height ratio is <1.

Recommended compression is between 10 and 50%.

All materials fulfill RoHS requirements.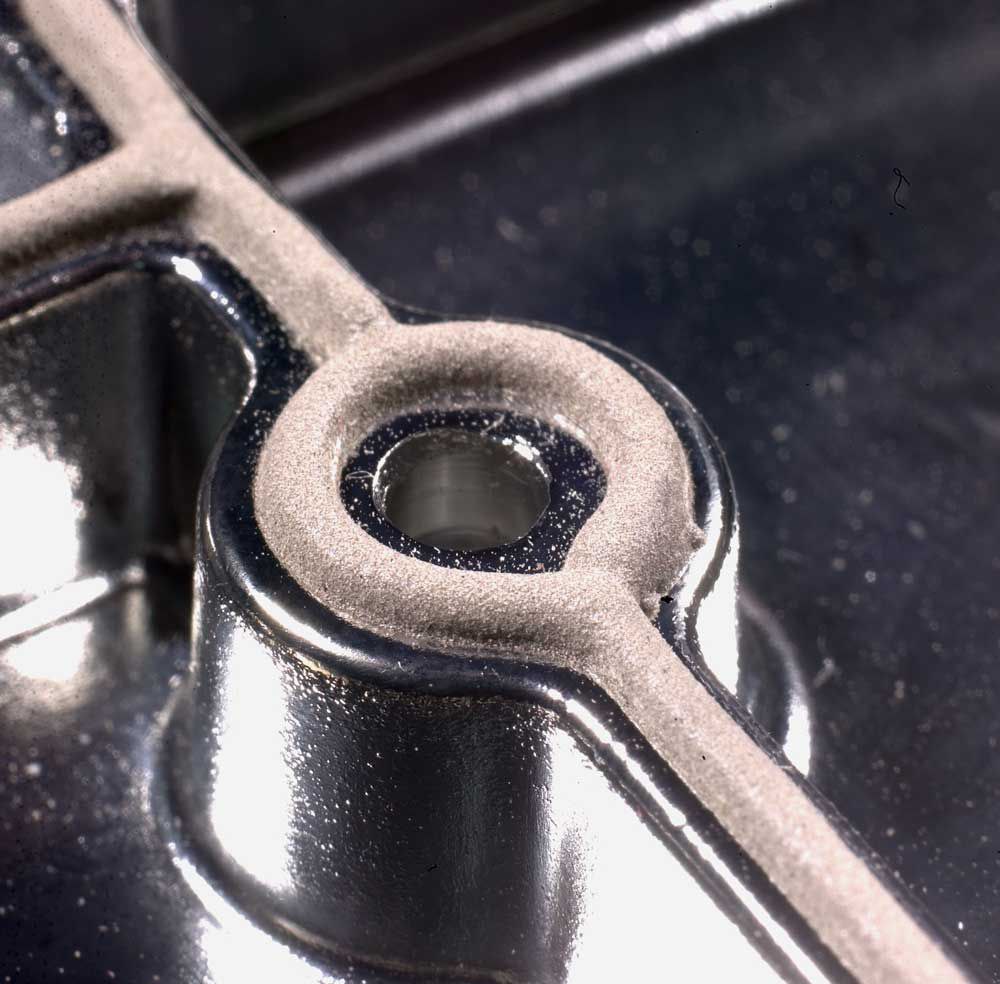 "The Amazon Effect" is an actual phenomenon disrupting the way all companies respond within the global economy. Vast selection, fast shipping, free returns, and low prices contribute to high customer expectations from every company now that Amazon has set the standard.
What does "The Amazon Effect" mean for Modus® and for you? We love that Amazon is continually raising the bar. Amazon and other customer-centric companies have changed the way modern businesses operate. They've modeled a framework on which they consistently execute. They've proven targeted investments in people, culture, technology, automation, and equipment can impact results. Adopting best practices from leaders like Amazon has steered Modus Advanced to successfully craft a product realization process that helps us get it right the first time for our customers.
Being a single-source manufacturer capable of converting from prototype to production gives Modus® the agility to meet aggressive deadlines. We start with our audited quick turn manufacturing processes. Having multiple established and quality-tested in-house processes provides the reliable RF shields our customers require faster. When there is a need for speed, vertical integration, versus a multi-sourced supply chain, gives Modus® the ability to perform rapidly.
We promise you and all of our Partnership Accounts the best engineering, manufacturing, and product development services possible while strategically combining our respective expertise.
Modus® seeks to be the obvious choice for all of our customers by investing in the processes and expertise they value most. Investing in qualified people, proven processes, leading-edge automation, and state-of-the-art equipment we continue to propel our performance to serve our customers where it matters most.
HOW MODUS® DELIVERS SIGSHIELD™
Modus Advanced, Inc. brings together the best of human and machine intelligence to produce superior results.
The team behind SigShieldTM is what makes everything possible. Our team of highly qualified and experienced engineers mean your custom-built RF shield is backed by over 40 years of experience.
We believe that investing in the right people and the right culture creates a better product. As such, Modus®:
Employs an educated and highly trained workforce that specializes in engineering and manufacturing.

Employees are selected for their respective levels, roles, and responsibilities using a science-based PI Behavioral Assessment™ to ensure they are in the right seats.

Reinforces an intentionally created and well-defined high performing culture supporting employee behaviors and rituals that bolster their highest levels of performance.

Holds the AS9100 international quality management system certification by having processes that meet the standard for the aviation, space, and defense industries.

Manufactures with state-of-the-art name brand production equipment.

Provides secure physical and cyber environments in compliance with Government Regulations ITAR, NIST 800-171 and DFARS 252.204-7012.
Modus Advanced is heavily invested in providing technology in a secure environment to protect internet-connected systems including software and data. Operating within Microsoft Azure Government provides security, protection, and compliance for all of our customers, especially service defense contractors supplying military or intelligence products.
Microsoft Office 365 GCC High – for government customers in highly sensitive situations and DoD Cloud for Department of Defense

Microsoft Dynamics 365 Business Central cloud-based Enterprise Resource Planning (ERP) for finance management, supply chain management, warehouse management, service order management, manufacturing management, etc. (migrating in 2020)

Microsoft Power Apps – for building applications within Common Data Service (CDS) hosted on Azure Government

Cybersecurity Maturity Model Certification (CMMC) – actively constructing a framework to meet level 3.

PRT-X – Modus Advanced, Inc's. time-saving custom quote system hosted on Azure Government
Modus® brings together the best of human and machine intelligence in a product realization platform designed to produce superior results! It takes every bit of this to deliver SigShield™, an actual value-added process that results in real benefits for our customers. The combination of vertical integration and a well-trained, dedicated manufacturing team helps us get it right the first time for our customers.
QUESTIONS?
OUR TEAM HAS ANSWERS.
With over 40 years of growth we have one of the most comprehensive arrays of advanced processes in the industry.