So, What is a Vibration Isolator?
Vibration isolators perform the basic function of, you guessed it, reducing the amount of transmitted vibration. Reducing vibration transfer through the use of rubber mounts offers a number of benefits. Very real benefits include prolonged equipment life, increased operator or passenger comfort, and even the perception customers have that your product is superior to the competition because it's not vibrating as much.
-- Article Continues Below --

Helping you select the right vibration isolator
There are many types of isolators available to resolve vibration issues: anti-vibration isolators, vibration isolators, sandwich mounts, stud mounts shock mounts and even bobbins. Rubber to metal bonded vibration isolators go by many names, but let's not get hung up on what we're calling them. Rather, I propose we simply use the term "vibration isolators" in our post today.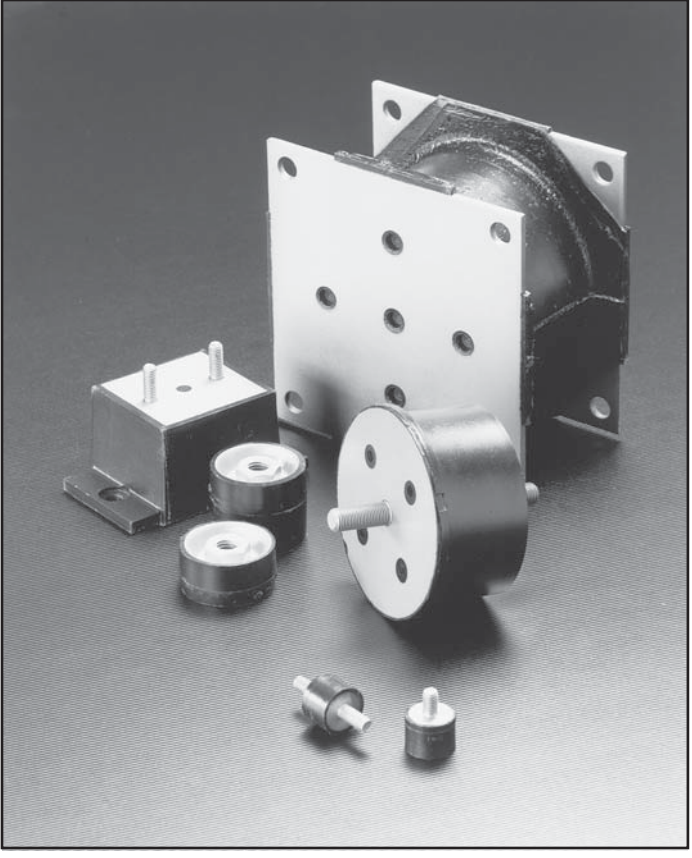 They're All the Same! Well, Not Really.
Ah, now we get to the heart of this blog. I know we've talked about this before but I'm going to say it again! Not all vibration isolators are created equal! I've literally seen people vibrate with excitement when they find a less expensive mount made by some guy, somewhere, somehow. It would be reasonable to assume conversations usually end when a customer tells us they found a less expensive mount from the "some guy, somewhere". Luckily, our team of sales and engineering professionals has been trained to help calm people vibrating with price excitement.
Your Parker LORD Channel Partner (CP) will be the first to admit a lower cost mount is definitely enticing. Who isn't enticed by a deal? You know I have to ask, what does "deal" actually mean when it comes to specifying and buying a mount? Well, since you asked, here are a couple of deals found on everyone's favorite eCommerce site: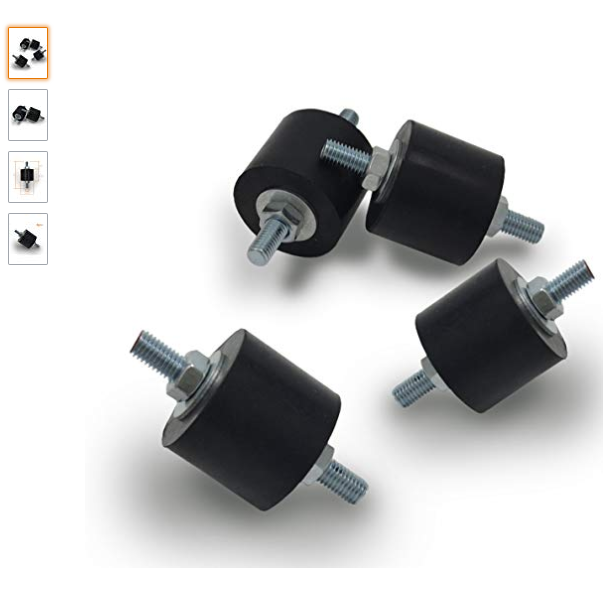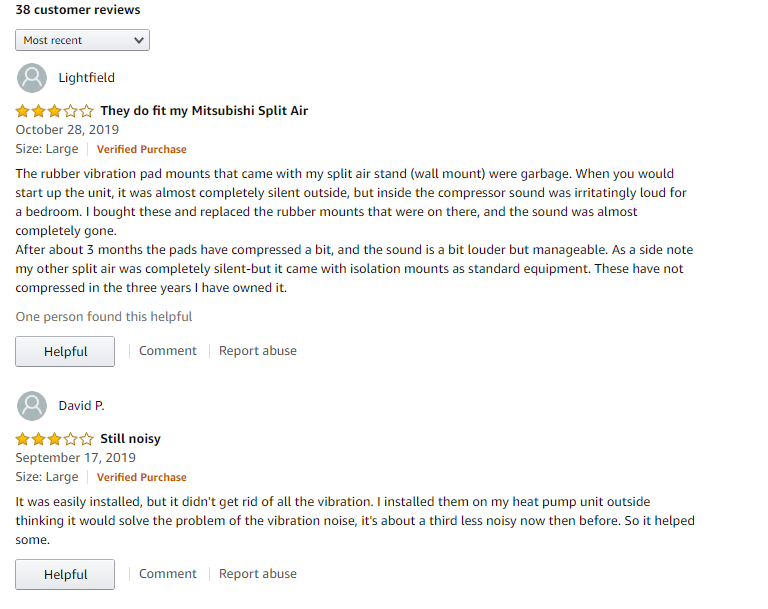 See, generic mounts can work! Oh, but wait, does the most recent review say the pads (mounts) have compressed a bit after 3 months, as in compressed and stayed compressed? How does that happen? What will happen in 6 months or a year?
What about David P and his review? He put rubber mounts on his heat pump, but the performance wasn't exactly what he expected. Why? The stud mounts looked like they were well built. They were clean and the metal was bright and shiny!
Finally, what a cool picture of a fan using stud or sandwich-type mounts in tension! Quick question, what happens if those mounts fail, as in the rubber tears? All of sudden you have a flying propeller dropping on who knows what! Suggestion - safety those mounts Mister!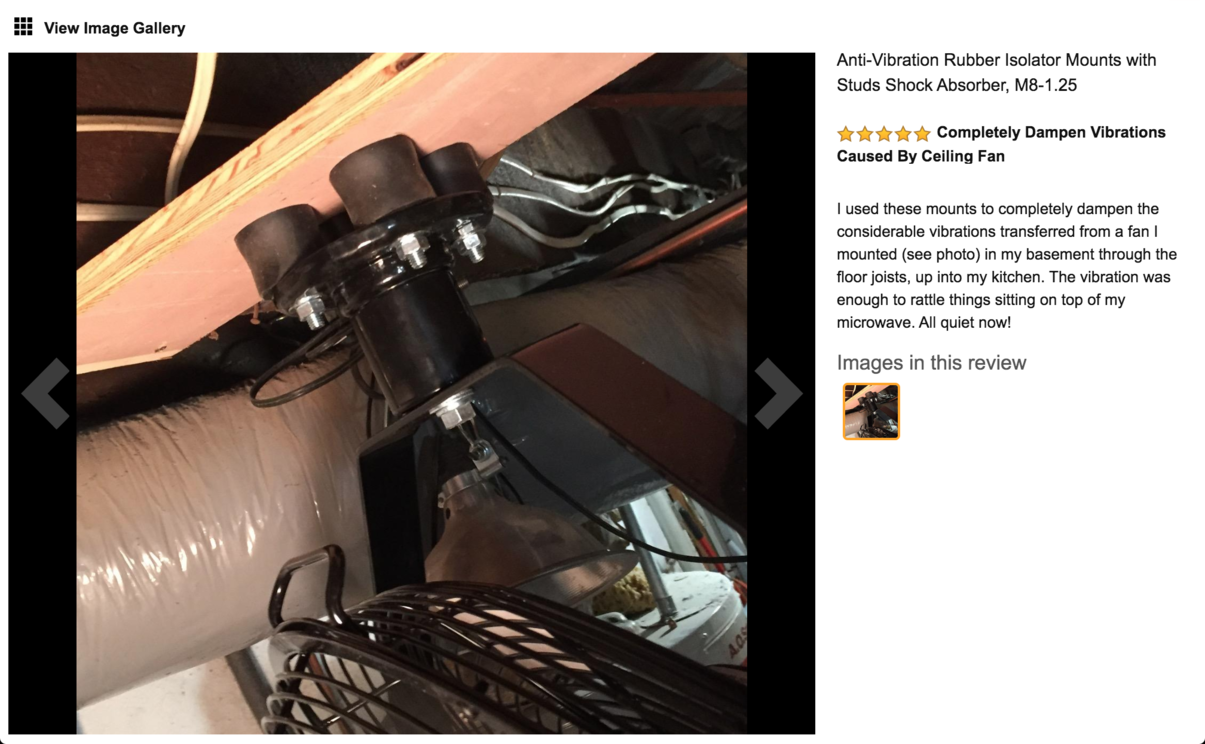 The Best Match for Parker LORD.

I know the folks above are trying to do their best with the information available. That's probably one of the big takeaways. Shouldn't we all try to make data-driven decisions, especially when performance matters?
Let's talk about data for a minute. What does data mean when it comes to picking the right mount for a performance application? There's a lot to talk about, so let's just list a few of the important pieces of information your Parker LORD Channel Partner will ask for when starting an application analysis:
What is the total supported weight?
What is the weight distribution?
What is the disturbing frequency range in Hz?
What is the primary direction of the disturbance?
Is the application stationary or mobile?
What is the vibration isolation desired as a percent?
This, and lots more. The information is fed into an app that ultimately leads to a mounting system recommendation based on your specific requirements.
It would be a fallacy to assume data can just be fed into a vibration mount app without understanding that the algorithms running within the app are based on a whole lot of rubber compound research and development. Of particular interest to engineers specifying mounts should be Parker LORD's leadership in rubber to metal bonding technology, documented compound library, and manufacturing process control. An app simply won't provide the results you can count on without accurate rubber compound performance data driving those results.
Let's help a guy out, or a few guys in this case. If a mount is overloaded for an extended period of time, there's a very good chance it will deflect and become permanently compressed. I don't know if this is what happened to Lightfield, but choosing an isolator based on its performance characteristics may have avoided permanent compression set.
Regarding the mounts not reducing vibration as much as expected; yep, maybe he picked the wrong isolators. Again, without correlating proper application info with demonstrated rubber compound performance data, you're just guessing. Speaking of guessing, that's what I think happened to David P. It's very difficult to solve a challenging vibration isolation issue without complete data.
Finally, a word for the fan guy, DON'T… just don't! Using rubber isolators to mount a fan or other device in tension is a bad idea. The mount will not perform as intended, and over time the rubber could tear leading to catastrophic failure. The Parker LORD Channel Partner would have strongly recommended against mounting with rubber isolators in tension!


Conclusion:
Who is Parker LORD, who is Modus Advanced, and the value the team brings to Partnership Accounts?
Parker LORD - For over 90 years Parker LORD has led the way in managing motion and minimizing noise, vibration, and shock. From aerospace vibration management to rubber-to-metal vibration isolators and flexible couplings, Parker LORD is a leader in Aerospace, Defense, Oil, Gas and Industrial.
Modus Advanced - As a LORD Channel Partner, Modus® helps engineers specify the most effective Parker LORD vibration isolator or shock mounts possible for their designs. Modus Advanced, Inc. provides value-added distribution to stock the appropriate amount of inventory in our local warehouse for immediate disbursement to our Partnership Accounts and customers.