Regardless of industry, designing a custom product is a challenge in itself, let alone unleashing the design into production. So how can your company ensure it is selecting the best production methods for your unique product? Efficient manufacturing requires forethought, planning and exceptional components. Design engineers want prototypes quickly and, in order to stay in the game, manufacturers must perform.
-- Article Continues Below --
Get all the information you need on custom molded rubber products in our informative guide!
It's not uncommon for projects to require samples in less than four weeks and full production in just a few months. With product development cycles continuing to compress, it's imperative to use components that are highly functional and yet meet aggressive timelines. The good news is, when it comes to rubber-like components, there are many material and manufacturing options. Choosing the material and method best suited for a specific design or build, before prototyping even begins, is key to meeting tight deadlines.
For custom rubber or rubber-like parts, new designs can come to life through a variety of manufacturing methods, including compression molding and 3D printing, also known as additive manufacturing. Having a basic understanding of additive manufacturing and molding processes will allow engineers to make the best choice for their designs. Specific areas to think about include:
● Availability and physical properties of the desired material
● Part features
● Quantities required
● Cost
● The part's end-use or application
Before jumping into our comparison, it's important to understand how each process works.
3D Printing for Form, Fit, Function and Production
As you know, 3D printing produces three-dimensional objects from digital part drawings. During the additive manufacturing process, successive layers of material are laid down and fused together. Typically, these materials are supplied as filaments or powders. There are a number of 3D printing equipment manufacturers using a variety of manufacturing technologies. Some of the leaders are Stratasys, HP and 3D Systems.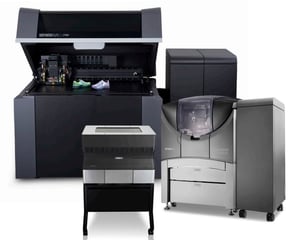 3D printing was originally used for rapid prototyping as it is an ideal process to assess the form, fit, and function of a part. However, as technology advances, the process is increasingly being used to make production-quality parts for certain applications.
In 3D Printing: Now and Beyond, a white paper from Stratasys, the 3D printer manufacturer describes the evolution of this disruptive technology and how it's redefining manufacturing. In addition to greater design flexibility, additive manufacturing offers precise physical replication.
Stratasys PolyJet 3D Printers (Source: Stratasys)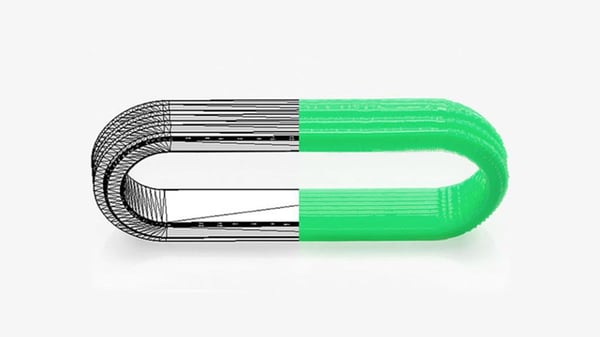 Aceo 3D Printed Part (Source:
Aceo
)
Rubber Compression Molding for Fit, Form, Function and Production
Whereas 3D printing creates rubber-like components directly from digital part files, rubber molding requires the use of metal tools (molds) to produce parts from uncured rubber compounds. There are several rubber molding processes, but we will focus on compression molding given the relatively low cost and speed by which parts can be produced. Each molding method is distinct, but all require molding presses to make parts heat and pressure.
Similar to 3D printed components, custom molded rubber parts start with a CAD file. Tools are designed and then milled to produce parts in the shape detailed in the file. The tool is loaded into a press where the rubber compound is cured into the specified shape. The parts are then potentially subjected to secondary processes, such as post curing or deflashing. In comparison to other somewhat automated molding processes, compression molding requires more manual work, such as re-loading the tool with additional rubber compound for the next molding heat cycle and re-running the press.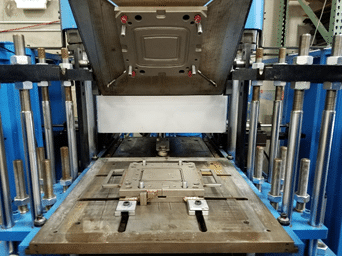 Modus Advanced, Inc. Compression Mold
Production of compression molded rubber parts can't begin until the mold is produced. Any changes to tooling can also delay start times. Complex tooling may add to project costs, but rubber molding is cost-effective when these costs are spread out across a substantial number of parts. As we'll see in the next section however, there's more to consider than cost.
Material Availability and Properties
Material availability should be contemplated when deciding whether to produce a part using 3D printing or rubber molding. Physical and chemical characteristics and performance attributes should also be weighed, in addition to the part's end-use.
When it comes to materials, explore the following questions:
● Are we comparing the same materials when considering 3D printing and compression molding?
For engineers, it's important to understand that the materials used for additive manufacturing and rubber molding are not necessarily or precisely the same. With 3D printing, the layered materials are anisotropic, meaning that their physical properties have different values when measured in different directions. Stay tuned, because things are changing when it comes to silicone!
● Does the material have the right properties for the application?
A new generation of 3D printed materials has made direct comparisons very difficult. We've learned there are no absolutes when it comes to materials in either manufacturing technique. The resources going into materials research and development in both rubber-like and traditional rubber compounds is substantial. Unless your product requires application specific characteristics, it's probably best to weigh other aspects of the project in concert with material selection. In other words, there are many instances where a printed material will produce the same or better results than a molding material.
● Unique requirements may drive material selection
Depending on the application, substituting a rubber-like material for a traditional elastomer may be impractical. For example, molded fluoroelastomers resist high temperatures and chemicals. Specialty rubber compounds can also provide superior shock and vibration control.
Molding also supports the use of custom molded rubber materials that resist ultraviolet (UV) light, resist compression set or possibly have electromagnetic interference (EMI) properties. Both molding and 3D printing materials come in medical grades, but engineers who need FDA-approved compounds may have more choices with rubber molding materials.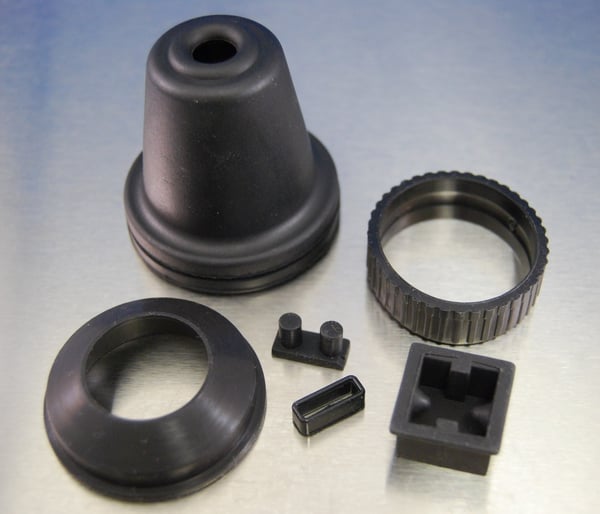 Compression Molded Components
Part Features, Quantities, and Costs
Part features, quantities, and costs also drive decision-making about manufacturing methods. Consider 3D printing for small, complex parts in lower volumes. Additive manufacturing is also a desirable choice for parts that need to incorporate many unique features, or more challenging features, such as undercuts or a lattice network. Additionally, 3D printing can produce multi-part assemblies and hollow parts.
Although in some cases, 3D printed parts can take hours to manufacture, labor costs are generally low since little operator oversight is required. Costs vary for prototype parts, but $10 to $50 per unit is typical for smaller parts. Yes, the cost to manufacture 3D printed parts is decreasing as technology improves.
With additive manufacturing, engineers need to remember part complexity doesn't necessarily increase cost. In fact, as Stratasys explains in a comparison of 3D printing to CNC machining, complexity tends to decrease costs since part features can reduce the amount of material required.
Let's face it, additive manufacturing holds a significant advantage when it comes to designing complex features into parts. If, on the other hand, the part doesn't require lattice features or other complex design elements, compression molding may be good choice. A typical prototype compression mold used to produce simple parts, like a rubber grommet, costs between $750 and $1500. The benefit of a multi-cavity compression mold is the number of parts it can produced per hour. A simple 6 cavity compression mold can easily produce 40-50 parts per hour. Spending a little more on the mold to create additional cavities can increase parts per hour and reduce the unit cost to well below $5.
What's the Right Choice for Your Application?
Ultimately, decisions whether to go with 3D printing or compression molding should be determined by design, materials, lead time, cost and quantities produced. For example, mission critical aircraft seals requiring resistance to jet fuel aren't an ideal choice for 3D printing today, but additive manufacturing could be used to create parts to check fit, form and function in the same application.
Compression molding and additive manufacturing are both viable processes to consider when designing new parts. With an understanding of the pros and cons each process brings to the production specific parts and their applications, the decision can easily be made to choose the best process for the project.
Are you ready to take your Idea to Ignition™ with additive manufacturing or compression molding? From part design to material selection to planning, production, and delivery, Modus Advanced, Inc. provides the rubber products and processes you need. To learn more, contact us.