Nolato is one of the world's leading polymer developers and manufacturers. Based in Sweden, the company has a strong presence across North America, Europe and Asia. Since 1938, the company has grown immensely and today has nearly 7,000 employees. Nolato has become a go-to polymer partner across a wide variety of industries, including medicine, aerospace, consumer electronics, automotive and telecommunications.
It's safe to say that Nolato's silicone rubber and other gasket materials are among the most popular and highest quality available today. That's precisely why Modus Advanced routinely uses Nolato form-in-place (FIP) gasket materials to create highly functional, cost-effective and perfectly engineered FIP gaskets for our customers.
In this post, the Modus Advanced team will walk you through the FIP gasket materials Nolato offers. We're here to partner with you as you bring your design from concept to physical reality, and part of that partnership involves recommending the best FIP gasket materials available today. Let's take a look.
--Article Continues Below --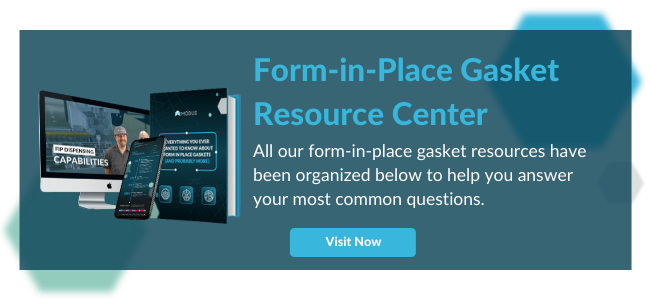 Visit the Modus Form-in-Place Gasket Resource Center
About Nolato TriShield®
Nolato has trademarked the name TriShield for its patented, narrow-dispensed, silicone rubber gaskets. These Nolato form-in-place gasket materials contain a conductive filler metal that makes them highly effective electromagnetic interference (EMI) shields.
These triangular, narrow gaskets all use silicone rubber as the base material, but their filler materials differ. Filler materials in Nolato TriShield FIP gaskets include nickel graphite and silver nickel. To produce a TriShield FIP gasket, a manufacturer must secure a license from Nolato.
Nolato TriShield 8817
The Nolato TriShield 8817 FIP gasket material has a silicone base and nickel graphite filler. Its properties include strong adhesion to most metals. The material combination of Nolato TriShield 8817 makes it compatible with aluminum and highly resistant to galvanic corrosion.
This material usage is also stable in harsh environments, with operating temperatures that range from -55°C to +125°C. The FIP gasket material offers solid mechanical properties on top of excellent EMI shielding capabilities, due in part to the patented triangular shape.
One of the most common uses of Nolato TriShield 8817 is for FIP gaskets in mobile phone base stations. The excellent shielding and mechanical properties of this material make it ideal for a wide variety of telecommunications applications, among many other industries. Due to the material's lack of more expensive filler materials like silver, it is usually quite affordable.
Nolato TriShield 8800
With many of the same primary applications and the exact same operating temperature range as Nolato TriShield 8817, the Nolato TriShield 8800 FIP gasket material is another highly effective EMI shielding material option with respectable mechanical properties.
Nolato TriShield 8800 contains a silver nickel filler and a silicone rubber base. Despite the material's use of silver as a filler material, it remains affordable for most projects, particularly as an alternative to mass-produced gaskets meant for use on plated aluminum and other metallic casings and housings.
Learn everything you have ever wanted to know about FIP gaskets in our ultimate guide!
Nolato TriShield 8812
Nolato TriShield 8812 is another Nolato FIP gasket material that contains a nickel graphite filler. Like Nolato TriShield 8817 and Nolato TriShield 8800, Nolato TriShield 8812 is an ideal FIP gasket material in many telecommunications settings that involve very high or low temperatures, but this material takes heat resistance a step further. It has a UL94-V0 flammability rating.
Nolato TriShield 8813
With a base of silicone rubber and a filler of nickel graphite, Nolato TriShield 8813 offers many of the same properties as Nolato TriShield 8817, TriShield 8800 and TriShield 8812. Like the other Nolato FIP gasket materials, Nolato TriShield 8813 is affordable, highly efficient as an EMI shield, resistant to extreme temperatures and resistant to galvanic corrosion.
Nolato TriShield 8700
Nolato TriShield 8700 comes with a silicone rubber base and a filler of silver and copper. This material offers an excellent EMI shield and strong adhesion. It's particularly well-suited to applications that require an EMI gasket to be dispensed onto larger aluminum casings.
Nolato TriShield 8710
With a base of silicone rubber and a filler of silver and aluminum, Nolato TriShield 8710 offers another strong EMI shielding material option for FIP gaskets. Like the other Nolatio FIP gasket materials, Nolato TriShield 8710 is resistant to both high and low temperatures.
Nolato TriShield 2.0 8950
As a member of the TriShield 2.0 family of FIP gasket materials, Nolato TriShield 2.0 8950 offers lower compression force and reduced material consumption when compared to the FIP gasket materials in the original TriShield line. Nolato TriShield 2.0 8950 still offers a silicone rubber base, and its filler material is nickel and graphite.
Learn how Modus is redefining the traditional supplier relationship
Dispensing and Curing Nolato Form-in-Place Gasket Materials
Nolato TriShield 8817, Nolato TriShield 8800, Nolato TriShield 8812, Nolato TriShield 8813, Nolato TriShield 8700 and Nolato TriShield 8710 are all recommended for compression of between 10% and 50%.
The low viscosity of these materials means virtually any FIP gasket dispensing machine will have short cycle times. These two-component gasket material compounds are dispensed as beads directly onto the housing or component they are meant to adhere to.
All of these FIP gaskets are typically 0.8 to 2.0 millimeters in height with a width-to-height ratio of <1, with the exception of Nolato TriShield 8817. This FIP gasket material is typically 1.0 to 2.0 mm in height.
Nolato's FIP gasket materials are all heat-cured in hot-air ovens for 30 minutes to an hour. Curing temperatures range from 100 to 150°C. Heat curing allows the Modus Advanced team to avoid silicone bleeding and provide better compression set, quality control and feedback and lead times.
High-Quality FIP Gaskets Made with Nolato Materials
Quality is a big deal at Modus Advanced. We hold ourselves to the highest possible standards, and we expect the same commitment to quality from the manufacturers whose materials we use. Nolato's FIP gasket materials rise to that challenge.
If you're interested in working with a high-quality manufacturer who uses only the highest-quality materials, you're interested in working with Modus. Contact us today by calling (925) 960-8700 or reaching out online.