If we didn't have other work to do, the team at Modus Advanced could probably write 100,000 words on form-in-place (FIP) gasket design. When we sat down to write the FIP gasket guide, we had to settle for a little over 6,500 words. To us, it's a start, although we understand that may seem lengthy to many readers.
If it is not already clear, we recommend that you read that guide. It's filled with helpful information we have gleaned from our decades in this industry. However, if you don't have time to read the guide right now, you can at least start by digesting some of its key takeaways.
Below, we have summarized six of the biggest takeaways from our form-in-place gasket design guide. Read on to learn more.
Hungry for more FIP knowledge? Read the guide or reach out to the experts who wrote it.
--Article Continues Below --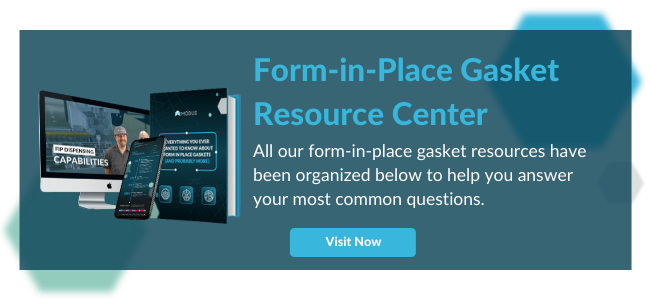 Visit the Modus Form-in-Place Gasket Resource Center
Form in Place Gaskets Are Efficient
Compared to other gasket styles, form in place gaskets are extremely efficient. This efficiency spans both overall cost and manufacturing labor. Because form in place gaskets are dispensed directly onto the housing in liquid form, the gasket material fills only the space it needs to fill. There is no overflow or cutting. In other words, there is no waste.
Eliminating material waste is critical for many gasket designs, but this advantage of form in place gaskets becomes particularly potent when you are designing an FIP gasket that must be conductive or able to deflect electromagnetic interference (EMI). To achieve either of these goals, you have to fill the gasket with expensive metals, such as silver. Wasting silver is simply not an effective cost-reduction strategy, and FIP gasket manufacturing won't ask you to do it.
The other key area of efficiency for form in place gaskets becomes apparent in the assembly phase — or lack thereof. Dispensed liquid FIP gasket material cures on and bonds to the housing. This eliminates the need for any of the traditional steps in the gasket assembly process, such as placing the gasket, applying adhesive, cutting extra length from the gasket and bonding the ends of the gasket together.
FIP Gaskets Have Broad Applications
FIP gaskets are precise, durable and — in most cases — cost-effective. Those qualities drive the use of these gaskets across a wide variety of industries.
Form in place gaskets can function as EMI shields and environmental seals that prevent water and dust from entering an opening in a device. These are two of the key uses for gaskets in general, making FIP gaskets a viable and commonly used option in the following industries:
Military and defense
Aerospace
Telecommunications
Consumer electronics
Medical devices
Test equipment
These gaskets find their way into many industries outside of those listed, but these are the industries that most commonly use form in place gaskets.
-- Article Continues Below --
Form in Place Gasket Guide: The Ultimate Collection of Information about FIP design, dispensing, and production
The FIP Material You Choose Has Big Implications for Your Design
When choosing material for an FIP gasket, you need to be very clear in your design goals. Many materials exist but each one will yield different results and can impact the effectiveness of your end product.
How different can one material be from another? Very, very different.
Base materials for form in place gaskets are typically one of the following:
For FIP gaskets that must shield devices from EMI or be electronically conductive, filler materials will come into play. Filler materials for FIP gaskets include the following:
Silver
Copper
Aluminum
Nickel
Graphite
Ferrite
The key is choosing the right materials to match the specifications of your design.
FIP Excels in Small Spaces
Electronic devices are getting smaller, and the potential uses for FIP gaskets are getting larger. That's because FIP gaskets are a near-perfect solution for extremely small spaces or intricate pathways that requires a seal or shielding.
The ability to dispense a liquid gasket material that fills the required space provides unmatched precision — and exactly the kind of precision required for very small spaces. Compare that to other methods of gasket production, such as pre-cutting and applying the gasket to the space by hand, and you see why FIP is the ideal method for a small gasket application.
Getting a Manufacturing Partner Involved Early Is Key
Perhaps one of the most important and easiest-to-remember takeaways of our FIP gasket guide is that FIP gaskets are complicated. Material selection is no simple choice, and it must account for not only the desired properties of the gasket, but the shape, size and material of the housing. Then, you have the risk of designing an unnecessarily expensive or intricate gasket that, even if it works well, is bleeding the budget dry for no real reason.
This is why it's so important to involve your manufacturing partner in the FIP gasket design process as early as possible. With in-depth experience on a large number of similar designs, your manufacturing partner should be able to provide design feedback and guidance that prevents design mishaps, budget strains and, in general, frustration.
Learn how we broke the mold on traditional supplier relationsips
FIP Gasket Dispensing Brings a Big Learning Curve
The realization that FIP gasket design is complex is one major takeaway, but it sparks another key takeaway of our guide: there is a big learning curve in FIP gasket design and manufacturing. And "big" is a pretty big understatement.
The journey along this learning curve is a tough one for manufacturers. It involves a lot of mistakes and potentially inefficient final products. This is a normal part of the learning process, but you shouldn't have to worry about these issues as you design your FIP gasket. That's why you need to work with a manufacturing partner who really knows their stuff — a manufacturer for whom the learning curve is nothing more than a distant memory.
Read the Guide, Work with the Form in Place Gasket Experts
Those six takeaways are a great start, but there's a lot more to learn in the full FIP gasket guide. Whether you're eager to read it or just in the market for some FIP gasket assistance, Modus Advanced has you covered. Our expert team is ready to provide design feedback and guide you through every step of designing an effective, efficient and cost-effective FIP gasket.
To speak with a member of our friendly and knowledgeable team, reach out by giving us a call at (925) 960-8700 or contacting us online.