No one will tell you that designing a form-in-place (FIP) electromagnetic interference (EMI) gasket is easy. In fact, if you're not prepared, it can feel next to impossible. But it doesn't have to be. With the tips we discuss in this blog post, designing a conductive shielding FIP gasket can be relatively easy.
You can make it even easier by partnering with the expert team at Modus Advanced. From idea to ignition, we're your dedicated partner as you design and manufacture an FIP EMI gasket. Read on to learn more.
If you need information about FIP gaskets, you can find everything you'd ever want to know in our comprehensive FIP gasket guide. Check it out.
--Article Continues Below --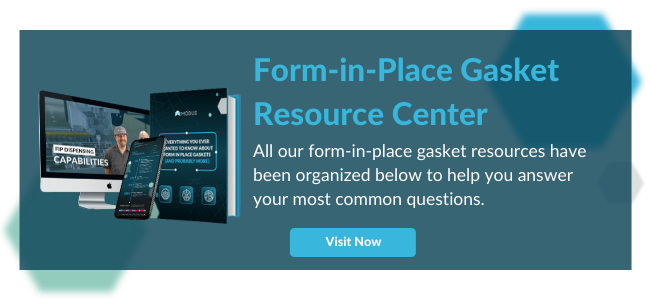 Visit the Modus Form-in-Place Gasket Resource Center
Maintain Distance Between Ferrous Materials and FIP EMI Gaskets
This guidance is specific to materials that must be cured through a magnetic forming process, like Nolato's Trishield Soft materials for instance.
When you dispense an FIP conductive shielding gasket, it is in the form of a thick liquid. That liquid contains both your base gasket material and your filler material — the part that makes the gasket conductive and shields against EMI. The liquid has to cure to form a solid form-in-place EMI gasket, and the curing process is extremely sensitive.
Curing can present a hazard to your gasket design if the part on which you are dispensing the gasket contains ferromagnetic material. That's because the magnetic properties of the material can attract the filler metals in the newly dispensed and uncured gasket. This can cause the gasket to cure improperly.
For example, if you have a pin that contains a ferrous material too close to the vertical configuration where you intend for your gasket to form, the gasket may cure in the direction of the magnetic pin — not toward the walls of the gasket path. You can prevent this problem by making sure your part does not place any potentially magnetic materials too close to where your FIP EMI gasket will be.
Choose Conductive Shielding Gasket Filler Materials Wisely
With standard environmental FIP gaskets, you only have to choose one kind of material: the base. But form-in-place EMI gaskets ask you to make another material choice. You have to decide what your filler material should be.
This is one of the most important decisions you will make in the design process. The standard EMI gasket filler materials are as follows:
Silver
Silver copper
Silver nickel
Silver aluminum
Nickel graphite
Nickel aluminum
Each filler material offers unique price points and characteristics, but they all serve to make the gasket conductive and resistant to EMI. To choose, begin by considering your budget. Silver tends to be the most expensive filler material, but it is high-quality and sometimes ideal for FIP EMI gasket projects with large budgets. Because the FIP gaskets manufacturing process produces so little material waste, your budget may be able to accommodate more expensive filler materials.
Nickel graphite tends to be the most affordable filler material. It might seem that you should default to the least expensive option, but you have to also consider the compatibility of the filler material with the materials on the part it will be in contact with. Corrosion can occur when certain metals come into contact with other metals or the environment, so your filler material choice has to take into account these factors.
Compression Force Matters for FIP EMI Gaskets
More so than for other types of gaskets, conductive shielding gasket designs must take into consideration the compression force required for their materials. An FIP EMI gasket has to be compressed under the exact pressure that the manufacturer of the materials calls for, or else you risk a failure to create a seal.
Read everything you ever wanted to know about FIP gaskets.
Stay Out of Grooves for Form-in-Place EMI Gaskets
For the most part, you'll want to do everything you can to avoid having grooves in your FIP dispense path. Why? Because dispensing liquid gasket material into a narrow groove can cause the material to cure toward the walls of the groove rather than the center of it.
That can lead to improper sealing and spotty compression forces. The good news is that there's a quick fix for the groove problem: design compression stops where you would have put grooves.
Avoid Sloping Surfaces
FIP EMI gaskets can be pretty intricate, which makes them ideal for complex designs. However, if at all possible, you need to avoid slopes as you design the dispensing path. The reason for this is simple: FIP conductive shielding gaskets are applied to their part as a liquid, and liquids move downward. This makes the dispensing process challenging, and the steeper the slope, the more challenging it becomes, ultimately increasing costs and lead times on your parts.
Get the guide to EMI Gasket Design
Opt for Vertical Integration
This tip is less about form-in-place EMI gasket design and more about what comes before and after it. It stands to reason that, if you're designing a gasket, that gasket is going to be dispensed on some other part of the device. Who's going to manufacture those other parts? How expensive and time-consuming will it be to have the part manufactured at one place and then sent to another to have the gasket applied? And will the two (or more) manufacturers maintain the same level of quality?
It's simple: splitting up the manufacturing of the various parts of your device is risky. That's why it's so important to focus on vertical integration wherever possible. In other words, you need to try to have the same manufacturer for all of the parts of the device, including the gasket.
At Modus Advanced, vertical integration is one of our key areas of focus. That's why we created SigShield™. Now, we can reduce typical lead times by 50% by machining your metal housing, applying coatings and platings and dispensing your FIP EMI gasket.
FIP EMI Gaskets: From Concept to Creation with Modus Advanced
There's a lot to consider when you're designing a form-in-place EMI gasket. Miss a step or fail to implement one of the tips above, and you're in for a frustrating, expensive experience. We're here to make sure that doesn't happen to you. Our engineering and manufacturing professionals are prepared to be your partner as you move forward with your conductive shielding gasket.
If you're ready to team up with the last gasket manufacturing partner you will ever need, all you have to do is get in touch with us. Reach out to the team at Modus Advanced by calling (925) 960-8700 or contacting us online.