Form-in-place (FIP) gaskets are a waste-free and versatile custom gasket solution for devices in a large variety of industries. From defense to consumer electronics, FIP gaskets literally fill the voids to keep all kinds of devices working as intended.
As a highly specialized gasketing solution, FIP gaskets require industry-specific knowledge and experience to manufacture. While a large number of manufacturers are eager to say they have the FIP feather in their caps, few actually meet the high standards necessary to create a functional, efficient and affordable FIP gasket.
The manufacturer you choose for form-in-place gasket services is perhaps one of the most important decisions you will make throughout the gasket production process. But how can you make this decision when it seems like every manufacturer claims high quality and efficiency as key descriptors of their services?
The 6 most important qualities for a form-in-place-gasket service provider are:
Modus Advanced is the go-to gasket design and manufacturing partner for countless organizations in a wide variety of industries. Why? Because quality, communication, cost savings and creative solutions are at the core of every single job we do. Contact us to learn more.
--Article Continues Below --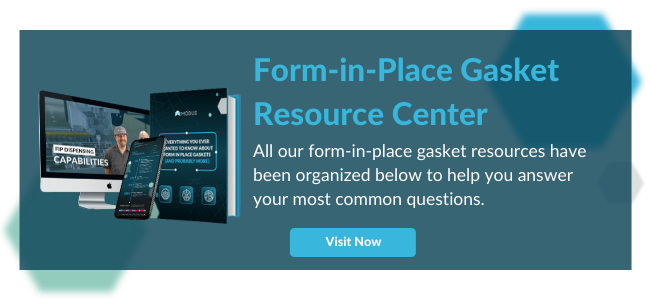 Visit the Modus Form-in-Place Gasket Resource Center
Special Considerations for Form-in-Place Gasket Services
Before we dive into the qualities to look for in a manufacturer for FIP gasket services, we need to lay down an important distinction: FIP gaskets are different. Regular gaskets — produced via extrusion, die cutting, CNC cutting, waterjet cutting and similar methods — are less precise. They also require additional cutting, adhesives, bonding and assembly.
That makes FIP gaskets an attractive option in many applications — especially those that require irregular gasket shapes or could benefit from curing on and bonding to the housing without an additional step in between.
Why does this matter? Because if you ask a manufacturer whether they are experienced in gasket production, they could honestly tell you that they are but still not have the experience necessary to do FIP gaskets the right way. During your search for a manufacturing partner, make sure all of the questions you ask and the factors you consider are specific to FIP gaskets and not gaskets in general.
The ultimate collection of FIP gasket information.
6 Key Qualities of an FIP Gasket Manufacturing Partner
These are by no means the only qualities you should look for in an FIP gasket manufacturing partner, but our years of experience have taught us that these six qualities are the most important among the many.
1. Strong Manufacturing Expertise
This may seem obvious in the abstract, but when you are actually vetting manufacturing partners, a shiny new facility and expensive website can cover up a lot of inexperience. To cut through the fog, ask any partner you are considering about how long they have been in business and whether they have been manufacturing FIP gaskets for that whole time.
2. Industry-Specific Qualifications
You wouldn't go to a doctor who didn't have a medical degree, and you wouldn't hire a lawyer who hadn't passed the bar exam. So why would you use a gasket manufacturer who didn't have the industry-standard certifications?
You wouldn't and shouldn't. But which certifications should you look for? At the very minimum, you will want your FIP manufacturing partner to have an ISO 9001 certification. This international certification proves that the manufacturer can produce products that meet regulatory and customer-level requirements on a consistent basis.
However, ISO 9001 certification is the bare minimum. Beyond that, you will want to look for certifications that are specific to your industry. For example, an International Traffic in Arms Regulations (ITAR) certificate shows that the manufacturer knows how to correctly and safely export technologies related to defense and military applications.
The International Aerospace Quality Group (IAQG) has set its own quality standards for manufacturing in aerospace. An AS9100 certificate demonstrates that a manufacturer meets these standards.
Learn more: AS9100 vs ISO 9001
3. Relationships with Key Suppliers
When you are considering a manufacturing partner's qualifications, you're going to have to look beyond the facility's capabilities and offerings to see something that's a little more intangible: the partner's relationships with suppliers of FIP gasket materials.
Especially in cases where the FIP gasket design calls for specialized materials, such as those used for electromagnetic interference (EMI) shielding, your manufacturing partner's ability to deliver on your design will rest largely on their ability to procure the required materials. In the prototype and small-scale initial manufacturing phases, that may seem like no big deal, but what happens when you scale up? To assess this quality, ask the manufacturer about the suppliers they regularly work with. Ask for names and descriptions of the material procurement process. Anything that suggests delays or inefficiencies is a red flag.
-- Article Continues Below --
How Modus redefines the traditional supplier relationship.
4. Readily Available Quality Metrics
Quality is key in the production of any gasket, but it's especially important in FIP gasket services because of the high degree of precision required. Here's what to look for to assess the quality of a manufacturing partner:
Published quality metrics for specific projects
A clearly stated quality goal for every project (99.5% is the standard goal at Modus)
Certifications that demonstrate quality achievements specific to FIP gaskets
5. Responsive Support Services
From the initial contact with the manufacturer to the final steps in the production process, whether or not the manufacturer is responsive will be a key factor in the success of the project. Manufacturers should keep you informed of every step, any necessary design changes and project timelines. Otherwise, you're in the dark.
A quick and easy way to assess the responsiveness of a manufacturing partner before you actually partner with them is to measure how long it takes them to return a quote for your project. If the quote takes a long time, you can expect that other parts of the process will take a long time, too. At Modus Advanced, our goal is to return quotes in 24 hours or less.
6. Vertical Integration
If you are considering FIP services, you will probably also need someone who can build the housing and related parts. Wouldn't it be easier if one provider could take care of all of it? Some can, including Modus.
Vertical integration is key to efficient, affordable and stress-free FIP gasket manufacturing. This is the driving force that pushed Modus to develop SigShield™. SigShield™ cuts typical lead times in half because you don't have to work with multiple companies to get the whole job done. You just work with one. We take care of machining the housing, applying coatings and platings, dispensing the gasket and building and applying thermal and microwave-absorbing materials.
-- Article Continues Below --
How Vertical Integration Overcame 6 Months of Production Delays
Full-Spectrum Form-in-Place Gasket Services
The Modus Advanced team works hard every day to meet and exceed the expectations laid out in this post. These efforts are an essential part of our service to our customers, but they're more than that. They're what drives us. As industry-leading engineers, we are obsessed with quality, precision and innovation. Adhering to the standards above allows us to deliver those qualities to customers every single time.
We offer design feedback, project guidance and full manufacturing partnership throughout the FIP gasket design process. And that comes with full accountability, honesty and responsiveness. In other words, our form-in-place gasket services are a win-win — you get the FIP gaskets you need, and we get another ecstatic customer.
Ready to work with us? We're ready, too. Give us a call at (925) 960-8700 or contact us online to get started.